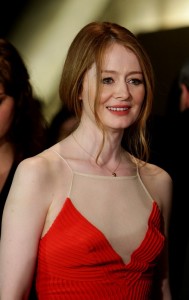 Australian actress Miranda Otto has had a prolific career in the show business. Starting her movie career in Australia when she was 19, she instantly gained notice for her debut in Emma's War. In the next years, she continued acting on the big screen and was acclaimed in Australia for her performances in The Girl Who Came Late and The Last Days of Chez Nous. After achieving success in her country, she decided it's time to move forward and explore Hollywood opportunities, for which she landed a role in the acclaimed American film The Thin Red Line, followed by the commercially successful What Lies Beneath. It was, however, her role in The Lord of the Rings: The Two Towers and its sequel The Return of the King that earned her international recognition. Other cinematic credits are War of the Worlds and I, Frankenstein. In 2015, she played a starring role in Homeland's Season 5.
The 48-year-old actress has had a three-decade long career as an actress and it seems she really loves her job since she still looks awesome despite nearing her 50s. Also a mother to her 10-year-old daughter, Miranda is health conscious enough to stay fit and fabulous at the same time. She knows how crucial it is for her age to be cautious of the food she eats because she now has a slower metabolism.
To supply her body of essential nutrients, she mostly has fruits and veggies as her main source of antioxidants and some seafood for proteins. She's also fond of eating beans and sweet potatoes, as well as drinking black tea in between meals so she feels all filled up. This is actually a healthy way to avoid feeling hungry more frequently. Eating long beach shrimp salad also gives her a balanced diet. With her diet plan, Miranda stays not only fit and healthy, but also radiant.