Career Beginnings and Success on Television and Film
Milena Markovna "Mila" Kunis was born on August 14, 1983 in Chernivtsi, Chernivtsi Oblast, Ukraine to physics teacher Elvira and mechanical engineer Mark Kunis. She has an elder brother named Michael. In 1991, at the age of seven, she and her family moved to Los Angeles, California.
On her second day in Los Angeles, she was enrolled at Rosewood Elementary School, not knowing any English. She also studied at Hubert Howe Bancroft Middle School and Fairfax High School, graduating in 2001. She briefly studied at UCLA and Loyola Marymount University in Los Angeles.
When she was nine, she was enrolled by her father in acting classes after school at the Beverly Hills Studios. It was there that she met Susan Curtis, who would become her manager. On her first audition, she instantly landed the part for a Barbie commercial. In 1994, she made her television debut after appearing in the soap opera Days of Our Lives.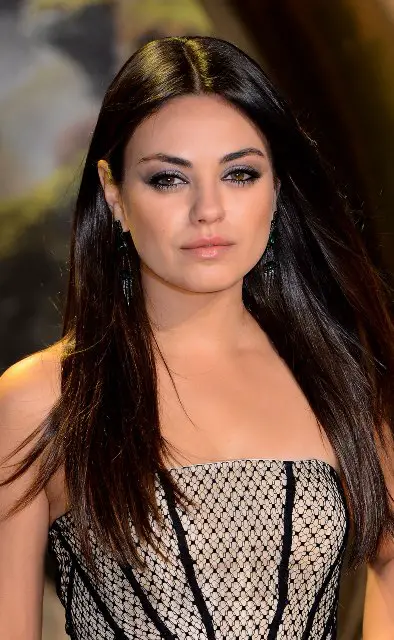 She went on to land more guest spots in such television series as Baywatch and 7th Heaven. In 1995, she made her film debut with the direct-to-video movie Piranha. She also played minor roles in such films as Santa with Muscles, Honey, We Shrunk Ourselves and Krippendorf's Tribe. In 1998, she portrayed the young Gia Carangi in the HBO movie Gia, starring Angelina Jolie in the title role.
In 1998, she was cast as Jackie Burkhart in the sitcom That '70s Show. All who auditioned for the part were required to be at least 18, Kunis, who was only 14 at that time said she would turn 18 but did not say when. Though the producers eventually figured it out, they still hired her for the part as they thought she was perfect for the role.
That '70s Show became a hit show, which ran for eight seasons. For her performance, she won two consecutive Young Star Awards as Best Young Actress in a Comedy TV Series in 1999 and 2000. She then replaced Lacey Chabert in the role of Meg Griffin in the animated sitcom Family Guy. For her work, she received a nomination for an Annie Award in the category of Voice Acting in an Animated Television Production in 2007.
In 2001, she crossed over into film, beginning with Get Over It opposite Kirsten Dunst. The following year, she played the lead role in the horror movie American Psycho 2, which had a direct-to-DVD release. She later appeared in such films as Tony n' Tina's Wedding, Stewie Griffin: The Untold Story, After Sex, Moving McAllister and Boot Camp.
In 2008, she gained wider recognition on the big screen after starring in Judd Apatow's Forgetting Sarah Marshall. The movie garnered positive reviews and became a commercial success as well. Also in 2008, she co-starred with mark Wahlberg in the action movie Max Payne. Though the film was panned by critics, it became commercially successful.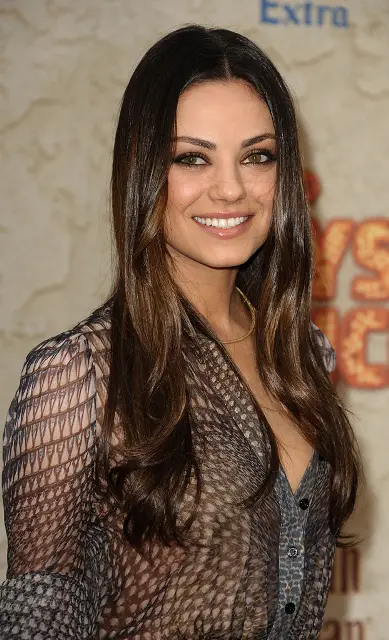 In 2009, she starred alongside Ben Affleck and Jason Bateman in the comedy Extract. The film received positive reviews and Kunis herself was praised for her spectacular acting. The following year, she starred opposite Denzel Washington in The Book of Eli and was once again praised for her performance.
Also in 2010, she played ballet dancer Lily in Black Swan, opposite Natalie Portman. The film received universal acclaim and was nominated for various awards including the Academy Awards for Best Picture. Kunis was also widely praised for her role, garnering multiple nominations for herself including her first Golden Globe for Best Supporting Actress.
Personal Relationships and Plastic Surgery
Beginning in 2002, Kunis began a relationship with actor Macaulay Culkin. On January 3, 2011, it was confirmed that the two had ended their relationship. In April 2012, rumors about Kunis dating her That '70s Show co-star Ashton Kutcher began to surface. In March 2013, Kutcher confirmed the reports.
The actress is also known for keeping her personal life private as she does not have a Myspace, Facebook or Twitter account. She does not talk about her relationships with the press, either. But when it comes to plastic surgery rumors, there's nothing much the actress can do, except simply deny or admit the reports.
In some beauty websites, it has been noted that Kunis, who is now 30, does not always look as polished as she is now. Since she first stepped in the world of show business during her teenage years, the public has had their first glimpse of Kunis as a young girl, making before and after comparisons much easier.
Upon taking a closer look by checking her old photographs, the conclusion is that she presently looks more refined, her beauty more distinctive because of her nose. Plastic surgeon Jennifer Walden supported the claims, saying: "After looking at many photos of Mila Kunis, I believe she's had a conservative and elegantly done rhinoplasty that served to narrow the width of the nasal dorsum (or bridge), give it a little more dorsal height and refining the tip. This fits her beautiful face much better; it seemed broad and boxy for her petite face in older photos."