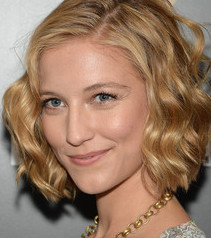 Hollywood star Caitlin Gerard had her career beginnings in 2010, appearing as Ashleigh in David Fincher's The Social Network. She next had roles in the films The Awakening and Answers to Nothing. She then played the role of Kim in Magic Mike, as well as starred as Ashley in the slasher film Smiley. During this period, she starred in the shows Jan and Vanessa & Jan.
In 2013, she starred as Amy in the MTV series Zach Stone Is Gonna Be Famous. The following year, she starred in the short film Genvieve, as well as starred in the film Manifesto. Gerard went on to star as Aubry Taylor in the anthology crime drama American Crime. This was followed by a role in the film The Assignment.
She went on to play the role of Jean in the miniseries When We Rise. She simultaneously played the part of Imogen Rainier in the supernatural horror film Insidious: The Last Key. At the same time, she starred as Lizzy Macklin in another horror movie The Wind. Her latest television role was as Kelsi in the TNT series The Last Ship.
Caitlin Gerard keeps her body in shape by following a healthy lifestyle. She eats well, she exercises, and she generally stays active in her day to day. As for her fitness regimen, she just sticks to the basic, nothing too intense or vigorous for her. She focuses on doing cardio exercises most of the time.
She runs, she hikes, and she swims. She spends time outdoors with her friends, which she considers as a workout in itself, much like doing errands and walking instead of driving. In the recent times, the actress has also tried other classes to discover more ways to stay fit and strong. She has tried yoga and Pilates, which she loves.