Early Life and Performing Career
Jessica Ann Simpson was born on July 10, 1980 in Abilene, Texas, United States to homemaker Tina Ann and minister and psychologist Joseph Truett "Joe" Simpson. Her younger sister Ashlee is also a singer. She was raised in Dallas and began singing at a local Baptist church where her father worked as the congregation's youth minister.
At the age of 12, she auditioned for The Mickey Mouse Club but was unsuccessful. She then attended a church camp where she sang Dolly Parton's "I Will Always Love You" and an arrangement of "Amazing Grace". There, she was introduced to the founder of the minor Gospel music record label, Proclaim Records.
She was eventually signed to the label and recorded an album titled Jessica but was dismissed from the company when it went bankrupt. When she was 16, Columbia Records executive Tommy Mottola heard her sing and was impressed, prompting her to be signed to the label. Following this, she dropped out from J. J. Pearce High School though she later earned her GED.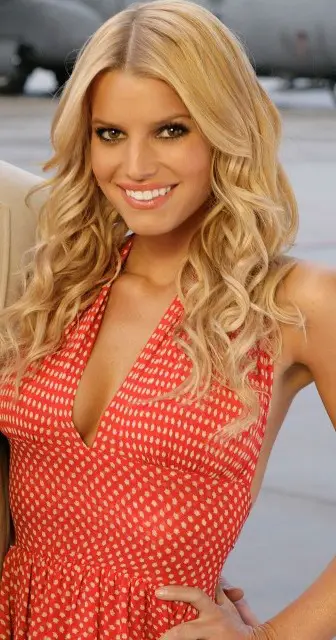 Her debut single "I Wanna Love You Forever" was released on September 28, 1999 where it debuted at Number 3 on the Billboard Hot 100. Two months later, her debut album Sweet Kisses was released. The album debuted at Number 4 on the Billboard 200. Sweet Kisses produced the singles "Where You Are" and "I Think I'm in Love with You".
For her second album, Irresistible, Simpson changed her image to a sexier, more mature artist. On April 12, 2001, the second album's lead single "Irresistible" was released but was met with negative reviews. The single became a moderate commercial success charting within the Top 20 in the US. The second album was then released on May 25, 2001 where it peaked at Number 6 on the Billboard 200.
She then went on to release her third studio album, In This Skin, on August 19, 2003. The same day, her reality show Newlyweds: Nick and Jessica also premiered on MTV. In This Skin debuted at Number 10 on the Billboard 200. The album generated the singles "Sweetest Sin" and "Take My Breath Away".
In 2005, she ventured into acting portraying Daisy Duke in the film The Dukes of Hazzard, the film version of the television series of the same name. The movie went on to become a box office hit, earning $110.5 million worldwide. It was also during this period that her reality show Newlyweds: Nick and Jessica had ended.
The following year on June 29, she released the single "A Public Affair", the lead track from her fifth album. On August 29, 2006, she released the fifth album A Public Affair under her new label Epic Records. Also in 2006, she starred in the movie Employee of the Month although it garnered poor reviews. In December 2007, she starred alongside Luke Wilson in her third movie, Blonde Ambition.
Subsequent Works in Film and Music, Personal Life and Plastic Surgery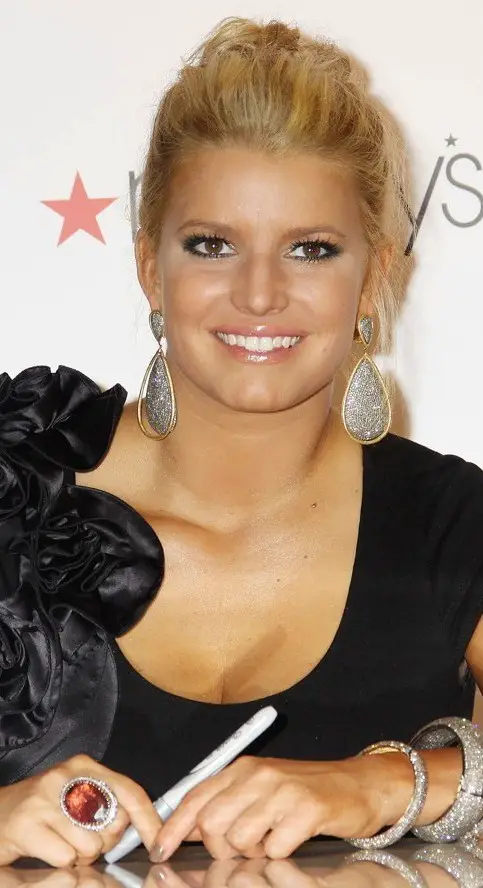 In 2008, she went back to her roots, releasing a country album Do You Know on September 9. It peaked at Number four on the Billboard 200 but fell too quickly, dropping out of the list after only nine weeks. She then returned to acting with her fourth film Private Valentine: Blonde & Dangerous, which had a direct-to-DVD release.
In 2010, she appeared in the documentary series The Price of Beauty, which started airing in March. Her other albums were then released during this time; a greatest hits compilation titled Playlist: The Very Best of Jessica Simpson and her second holiday album Happy Christmas. The following year, she served as a mentor in the NBC reality show Fashion Star.
Outside her musical and movie career, Simpson made headlines for her high-profile relationships; beginning with Nick Lachey, whom she started dating while working on her debut album Sweet Kisses. They were married on October 26, 2002. In November 2005, after three years of marriage, they announced that they were separating, later divorcing in 2006.
She then began dating Dallas Cowboys quarterback Tony Romo in November 2007. Her involvement with Romo was controversial as she was blamed by some Dallas Cowboys fans for Romo's poor performances. They eventually ended their relationship in 2009. In November 2010, she became engaged to retired NFL tight end Eric Johnson. They have two children together: daughter Maxwell Drew Johnson (born 2012) and son Ace Knute Johnson (born 2013).
Aside from her romantic endeavors, Simpson's physical appearance and overall image has been watched by the press ever since she came into the limelight. The singer admitted in a 2006 interview with Glamour magazine about some cosmetic stuff she had done to improve her looks.
According to the singer-actress, she had tried Restylane. The treatment can reduce wrinkles and fine lines, create fuller lips, accentuate contours and enhance skin quality. However, the 33-year-old singer was disappointed with the results, explaining: "It went away in like four months…[but] thank God! [They] looked fake to me. I didn't like that."