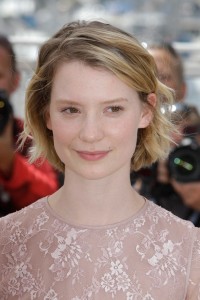 Aussie actress Mia Wasikowska started her career on Australian television when she was in her teens, making her debut in All Saints in 2004; then came her big screen debut in 2006. After this, she mostly acted in various short films and a couple of movies, as well as appeared in some TV shows. Her first role in an international movie was in Defiance released in 2008. That same year, she gained recognition for her starring role in the HBO series In Treatment. Her major breakthrough, however, was when she was chosen to play Alice in Tim Burton's Alice in Wonderland in 2010. This surely paved the way for a more mainstream work in Hollywood, having landed starring roles in such feature films as The Kids Are Alright and for portraying the titular character in Jane Eyre in 2011. This feat continued in the subsequent years with the movies Stoker and Maps to the Stars.
The 26-year-old actress stands at 5'3 ½ but with her slim stature she looks actually taller. Her pretty face and her slender figure make her beauty more radiant, making her more memorable in her film roles. Interestingly, prior to full-time acting, she was a ballet dancer, which she said she also enjoyed passionately. With this, the actress said she was way slimmer than before because of her dancing, and because of the fact that ballerinas have to be very thin. She said she didn't enjoy her body at the time.
Now she feels she's healthier. It doesn't mean though that she indulges in her cravings for unhealthy foods. She still maintains her fit body through healthy and clean eating. For her, it's not about having a pleasant-looking figure; it's also about feeling good and having the energy to be great at what she does. With this, she mostly ears fish for proteins and egg whites. At the same time, she incorporates pecorino cheese and mushrooms into her meals in addition to making sure she drinks lots of water daily. For snack, she munches on unsalted nuts.