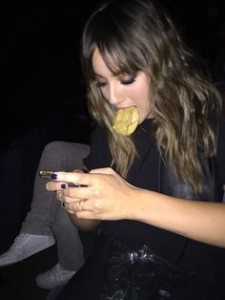 American actress Chloe Bennet was first a singer before becoming a known actress. Initially, her career originally started as a host of the dance-themed TV series The Nightlife in 2010. Her singing career actually happened in China though her first single was released in both English and Mandarin prior to moving to Hollywood. In 2012, she was cast in a pilot for NBC but it was not picked up by the network. She then made use of her performing skills after getting a recurring character in the musical drama series Nashville that same year. She achieved her much-awaited television success after landing a regular role in Agents of S.H.I.E.L.D, in which she portrays Daisy Johnson. This definitely exposed her to much more mainstream television audiences. In addition to her singing and acting work, she has worked as a voice actress in a couple of animation projects.
Standing at 5'5 ½, the 23-year-old actress has a notable beauty that got her noticed in Hollywood instantly. Combined with being multi-talented, she was able to secure a regular role on a popular show. Her alluring figure is also something to be noticed, which she achieves and maintains through healthy lifestyle such as working out and clean eating. Being in an action-oriented show also requires her to be physically fit to be efficient for her role.
With this, she manages her weight through avoiding unhealthy foods like pizza, sweets, and junk foods. She packs herself with lean proteins and complex carbs to fill her up and avoid feeling hunger in between meals. She focuses on eating veggies and fruits and even prepares her own vegetable juices to cleanse her body of toxins. In addition, she incorporates beets and artichokes, garlic, and quinoa into her daily dietary regimen. She's also very fond of maple syrup.