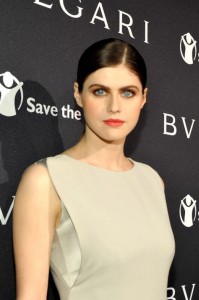 American actress Alexandra Daddario started her acting and screen career in the early 2000s when she was 16 by appearing in a soap opera. Her movie debut was in the mid 2000s followed by a couple of other films. She first gained recognition for her recurring character in White Collar in 2009. Subsequently, she became widely known after starring in the movie Percy Jackson & the Olympians: The Lightning Thief. This was followed by a few more well-known features, including Bereavement and Hall Pass. She also reprised her role in the Percy Jackson sequel Sea of Monsters. In 2014, she received much attention for her recurring role in True Detective in 2014. Further success in her career came in 2015 when she starred in the disaster movie San Andreas. Her most recent work was in American Horror Story: Hotel.
Standing at 5'8, the 29-year-old actress is pretty remarkable for her fierce, beautiful face that made her an immediate favorite among TV audiences and moviegoers alike. She may not be typically slim like other young celebrities but she has her own slender, curvaceous figure that she achieves and maintains through working out and healthy eating. Alexandra recognizes the importance of mostly eating nutritious foods to not only look good but also to feel energetic, crucial in her job as an actress.
For breakfast, she usually has omelettes to fill her up since morning meals are the most important meal of the day, while she has grilled salmon for lunch. Both foods are packed with proteins. Just like other healthy eaters, she prefers eating organic foods to make sure she consumes only clean and healthy products. Aside from this, she regularly incorporates fish oil into her meals as she believes in its benefits, one being good for digestion. She does have cravings, which she eats only once in awhile.