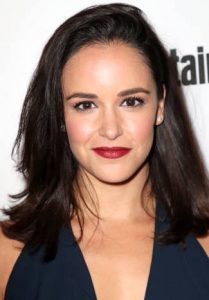 It was in 2004 that actress Melissa Fumero started her professional acting career, starring as Adriana Cramer on the soap opera One Life to Live. She reprised her role on another soap, All My Children. During this period, she pursued a career on film as well. She first appeared with an uncredited role in Descent, after which she had a one-time role on the sketch-comedy show Important Things with Demetri Martin. Her first credited role on the big screen was in 2009's I Hope They Serve Beer in Hell.
In 2010, she played recurring character Zoe on Gossip Girl. After her stint on One Life to Live ended, she made guest appearances on The Mentalist, Royal Pains, CSI: NY and Men at Work. Her major breakthrough came in 2013 as Amy Santiago on the Fox sitcom Brooklyn Nine-Nine, a role which she still plays up to present. Since then, she has appeared as herself on such TV programs as op Chef Duels, Hollywood Game Night, Hell's Kitchen, and The $100,000 Pyramid. Meanwhile, her latest film role was in 2017's DriverX.
Apart from her healthy diet plan, the comedic actress maintains her overall physique and fitness by working out, which she performs variedly. This is to avoid boredom. "I get bored easily when it comes to working out, so I'm always trying to mix it up. I like to be outdoors, so hiking, walking, or light jogging are usually my go-to's. I love yoga and have been practicing on and off since college," Fumero said.
"I try different styles and classes, or I practice at home outside on my deck. When I first moved to LA, I tried a lot of the barre classes here, from Cardio Barre to Pop Physique. Whenever I need some new motivation for working out, I'll try a new class or something I can do outdoors like stand-up paddle boarding, a new hike, or biking. You have to keep it fun!"