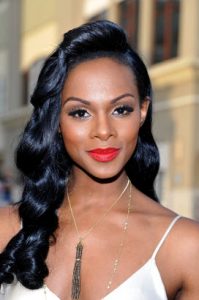 Hollywood star Tika Sumpter started her television career as the host of the show Best Friend's Date (2004-2005). Following this, she starred as Layla Williamson on the soap opera One Life to Live, which she starred in from 2005-2011. While on the show, she appeared in the films Brooklyn's Finest, Stomp the Yard: Homecoming, Salt, Whisper Me a Lullaby, and What's Your Number?.
She later played recurring character Raina Thorpe on Gossip Girl, as well as appeared as Jenna Rice on The Game. She went on to have notable roles in the movies Sparkle, A Madea Christmas, Ride Along, and My Man Is a Loser. In 2014, she portrayed singer Yvonne Fair in the biographical drama film Get On Up.
She then reprised her role as Angela Payton in Ride Along 2. In 2016, she portrayed former First Lady Michelle Robinson Obama in the biographical film Southside with You. Her latest movie credits were in The Old Man & the Gun and Nobody's Fool. She also currently stars as Candace Young on the TV series The Haves and the Have Nots, which she started doing in 2013.
The actress doesn't believe in strict dieting. "I don't have a restrictive diet. I've never been one to diet, I know I won't uphold it so I balance with good food and exercise. I eat what I want within moderation. I love candy, so I treat myself," she explained. She's one who doesn't deprive herself of food and allows herself to enjoy eating.
She just makes sure she eats in moderation. She also always starts her mornings with a healthy breakfast. "It changes with whatever I'm feeling. It's usually simple. Bagel with butter, oatmeal or a bowl of cereal. Always black tea with honey," she revealed. Is she picky with her food? Definitely not! "I eat everything, so if it's good food I'm there. I love steaks, oysters, tacos, Chinese and Italian food. I'm pretty open."