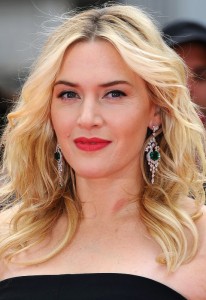 The Titanic star Kate Winslet is now in her 40s but she's still as talented and fabulous as ever. Starting her career in cinema in the 1990s, her claim to fame was as Rose in the massive hit Titanic released in 1997. With her international prominence, she continued receiving rave reviews for her performances in Iris (2001), Eternal Sunshine of the Spotless Mind (2004), Finding Neverland (2004), Little Children (2006), and Revolutionary Road (2008). Her lead role in The Reader (2008) also got her acclaim, winning the Oscar for Best Actress, proving she's one of the greatest actresses in Hollywood right now.
She has also acted on television, playing the titular character in the HBO miniseries Mildred Pierce (2011), which won her an Emmy Award for Best Actress. Kate has also starred in the romantic comedy film The Holiday, which was also a box office hit and starred as the main antagonist in Divergent and The Divergent Series: Insurgent, released in 2014 and 2015 respectively. She will star in the upcoming feature films Steve Jobs and The Dressmaker.
Kate has always been proud of her curvaceous body and doesn't seem to be swayed by some Hollywood body standards, such as being slim to be considered sexy, and people love her for it. However, it doesn't mean that the actress is not cautious of her eating habits, because she is. Eating right is not only about weight loss, it's also about being healthy and fit. For one thing, Kate doesn't believe in crash dieting or starving to be able to stay slender and fit.
Interestingly, she practices 'The Facial Analysis Diet', in which the dietician identifies either body deficiency or excess by just examining her face. The actress said this method is effective that she's lost 50 pounds by just following this system. Furthermore, Kate stays away from alcohol, processed foods, and even bread. To make sure she gets sufficient nutrients, she eats fruits and vegetables everyday. Since she loves to cook, she prepares her meals the healthiest way possible. She's also fond of chicken. Considering her discipline when it comes to her eating habits, Kate limits herself by keeping every meal small and light.