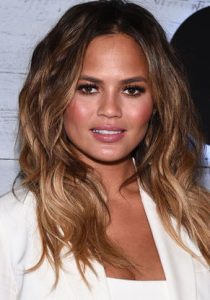 Celebrity Chrissy Teigen came to prominence first as a model where she was an IGN Babe. She later became a substitute model for the show Deal or No Deal. In 2007, she was featured on the cover of Maxim's calendar. She was later featured in ad campaigns for XOXO, UGG Australia, Rock and Republic, Billabong, and many others. On television, she appeared in such TV shows as E!, TMZ, MTV, FUSE/MSG, and Extra with Mario Lopez, where she worked as a contributor. She even had appearances in the shows America's Next Top Model and Watch What Happens Live.
In the 2010s, she regularly appeared in the Sports Illustrated magazine. She later hosted the short-lived show Model Employee. She later appeared on the cover of Sports Illustrated Swimsuit Issue in 2014. She has also graced the covers of Ocean Drive magazine and Cosmopolitan. In 2013, she appeared in the music video of her husband, John Legend's single "All of Me", exposing her to wider audiences. She currently co-hosts the show Lip Sync Battle.
To stay in shape, Chrissy watches her diet and makes sure that she focuses on healthy foods. In an interview, she got candid about her food choices and her standard diet plan every day. For breakfast, the model prefers proteins over carbs. She doesn't eat bread in the morning. "I have to have eggs every day. I like a farmer's breakfast: two over-easy eggs, turkey bacon or pork sausage, sliced avocado, and grilled tomatoes. I can't do pancakes or else I just want to go to bed. Eggs are my must—with a ton of Cholula on top," she said.
She has also a thing for pickled peppers so they're always in her fridge. "They're my go-to. Pickled green hot peppers, deli-style pickled jalapeños, pepperoncinis. I put them in certain dishes, like tuna casserole, when I want that crunchy bite of heat, but I mainly just munch on them," she revealed. For dinner, she wants something heavy like steak. "If I have a salad or something lighter for dinner, I wake up around 2 a.m. and go candy crazy," she said.