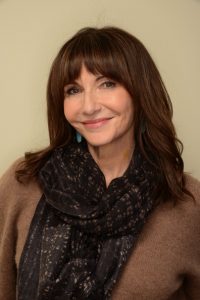 Hollywood star Mary Steenburgen got her start during the 1970s. In 1978, she made her film debut in Goin' South. She next had a role in the movie Time After Time, after which she played Lynda West Dummar in the movie Melvin and Howard. For her performance here, she won the Academy Award and Golden Globe for Best Supporting Actress. She was also praised for her work in the 1981 film Ragtime. She later played Marjorie Kinnan Rawlings in the movie Cross Creek. She went on to star in the movies Dead of Winter, End of the Line, Miss Firecracker, and Parenthood.
In the 1990s, she starred in the films Back to the Future Part III, What's Eating Gilbert Grape, The Butcher's Wife, and Philadelphia. She also portrayed Hannah Milhous Nixon in the movie Nixon. She continued acting in the 2000s with roles in I Am Sam, The Brave One, and Did You Hear About the Morgans?. More recently, she had roles in the features The Discovery, I Do… Until I Don't, and Book Club. On television, she's best known for her roles in Ink, Curb Your Enthusiasm, Joan of Arcadia, 30 Rock, Bored to Death, Justified, Orange Is the New Black and The Last Man on Earth.
The 65-year-old actress maintains her slim figure thanks to her clean diet. As she's now older, she knows better than to indulge in foods that can be bad for her body and health in general. Wanting to stay fit and healthy, the veteran actress ensures that her diet mostly consists of healthy and well-rounded foods. She's also into organic foods as well. When it comes to her diet routine, she basically consumes lean proteins, whole grains, and fiber-rich foods like vegetables and fruits. Every now and then, she also lets herself eat foods she likes as she doesn't believe in depriving oneself of food. But in order to keep a balanced eating habit, she always has them in moderation.