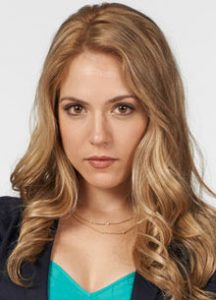 Canadian star Brooke Nevin had her career beginnings in 1996 when she debuted with a one-time role on Jonovision. She next guest-starred in an episode of Goosebumps. After this, she made her big screen debut in the 1998 movie Short for Nothing. Her first starring role on television was as Rachel Berenson on the show Animorphs. This was followed by one-time roles on Are You Afraid of the Dark? and Twice in a Lifetime. In the 2000s, she first made guest appearances on the shows The Famous Jett Jackson, In a Heartbeat, Doc, Strange Days at Blake Holsey High, and Skin. She then starred on the TV movies Haven, Loves Music, Loves to Dance, and Guilty Hearts.
In 2002, she starred as Brenda on the short-lived series I Love Mummy, as well as appeared as Claudia Marinelli on Seriously Weird. She became further known among audiences after landing the part of Nikki Hudson on the CBS series The 4400. During this period, she had roles in the films Comeback Season, I'll Always Know What You Did Last Summer, The Comebacks, and Sherman's Way. She later had roles as Chloe Clayton on the show Worst Week, starred as Brooke on the web series Imaginary Bitches, and starred in the films Archie's Final Project and Infestation. In the 2010s, she starred as Sonja Lester on Call Me Fitz, Julianne Simms on Breakout Kings, and Dr. Clara Malone on Cracked. She had recurring roles on CSI: Crime Scene Investigation, Chicago Fire, Quantum Break, and Scorpion.
To maintain her slim figure and her overall well-being, the 36-year-old actress sticks to a clean diet plan. Mainly, this consists of organic foods. She makes sure she eats healthy types of food most of the time, which includes whole grains, lean proteins, fruits, and vegetables. She drinks plenty of water and incorporates veggies into all her meals. She also practices portion control at all times. She indulges in her cravings every now and then, including sweets, but she does so in moderation.