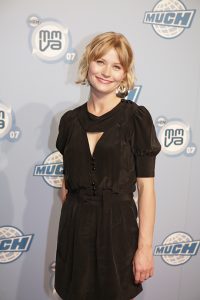 Actress Emilie de Ravin began acting in her native Australia. She made her debut on the television series BeastMaster. Following this, she pursued a career in Hollywood, landing the role of Tess Harding on the TV series Roswell. Subsequently, she played Chris Hargensen in the made-for-television film Carrie. This was followed by guest roles on The Handler and NCIS. Her breakthrough came after landing the role of Claire Littleton in the ABC series Lost. She was part of the show's main cast from 2004 to 2008. The program's widespread success earned her mainstream recognition.
While on the show, she made her film debut in 2005's Brick, followed by Santa's Slay. She later starred in the film The Hills Have Eyes. She went on to star in the movies Ball Don't Lie, The Perfect Game, and Public Enemies. She later co-starred with Robert Pattinson in the romantic film Remember Me. After this, she starred in the movies The Chameleon, Operation: Endgame, and Love and Other Troubles. She returned to primetime as Belle in the ABC series Once Upon a Time, a role she played from 2012 to 2018. At the same time, she starred in the miniseries Air Force One Is Down. Her latest film role was 2015's The Submarine Kid.
The 36-year-old actress maintains her slim figure thanks to her active lifestyle. As she's now older, she knows better than not to spend some time exercising. When she was younger, she admitted that she didn't really work out. She even shared in an interview that she's not a very fit person and that she got her slender figure from her mother. The present, of course, is a different story. She knows more than ever that it's crucial for her to stay active not only to keep her figure slender but to also feel great in the inside and out. For this reason, she walks, runs, and hits the gym whenever she can.