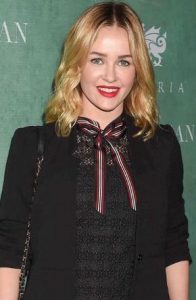 It was in 2000 that actress Ambyr Childers got her start in Hollywood. Her first-ever acting work was in an episode of L.A. 7. Later in 2003, she played the younger version of the lead character in the film Carolina. She also played the role of Barbie in the film Dickie Roberts: Former Child Star. On TV, she became known for starring as Colby Chandler in the soap opera All My Children, which she played from 2006 to 2008.
Some years later, Childers had performances in the straight-to-video films All Things Fall Apart, House of the Rising Sun, and Setup. She next had roles in the movies Lay the Favorite, Playback, Freelancers, and The Master. She continued her film career with acting credits in the features Gangster Squad, Broken City, We Are What We Are, and 2 Guns.
Between 2013 and 2016, the actress became known for her portrayal of Ashley Rucker in Ray Donovan. At the same time, she appeared in the film Vice, as well as played Susan Atkins/Sadie in the NBC series Aquarius. Recently, she gained wider recognition for her role as Candace Stone in the Netflix series You. In the movies, she recently worked as a voice actress for the film Pinocchio.
Staying in shape for Ambyr Childers means living an active lifestyle. Being an actress who's always on the go already gives her a great headstart fitness-wise. But other than getting busy on a physical level, the actress also improves her strength through a regular workout routine.
Her exercise regimen combines cardio and a bit of weight training. She also mixes things up by trying different classes. More recently, she's also discovered the power of yoga, which helps her reduce her stress levels. She's also tried Pilates, which helps her increase muscle strength and tone.