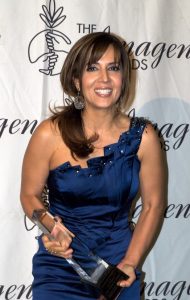 American actress Maria Canals-Barrera had her career beginnings in the 1990s, debuting in an episode of 21 Jump Street. She later had a recurring character in the telenovela Marielena and the drama series Key West. In the movies, she had her first film role in 1993's Cop and a Half. She next appeared in the film My Family. She also starred as Carmen Cruz in the sitcom The Tony Danza Show.
In the 2000s, she had performances in the films America's Sweethearts, Imagining Argentina, and The Master of Disguise. Between 2007 and 2012, she starred as Theresa Russo in Disney's Wizards of Waverly Place. She reprised her role in the sequel TV movie Wizards of Waverly Place: The Movie, as well as in the TV special The Wizards Return: Alex vs. Alex.
She also played a supporting role in the 2011 film Larry Crowne. Back on TV, she starred as Daniela in the short-lived ABC sitcom Cristela. She recently had performances in the movies God's Not Dead 2 and Sweet Inspirations. Canals-Barrera is also a prolific voice actress who's played Hawkgirl, Livewire in Justice League and Justice League Unlimited.
Maria Canals-Barrera doesn't believe in strict dieting. Instead, she allows herself to eat whatever she wants, just as long as she does in moderation. "Today I had half of a breakfast burrito with bacon. A little bacon adds so much flavor and goes a long way! I don't believe in vilifying any foods. Everything in moderation is what I say, because if I really want a little bacon, 100 carrot sticks won't satisfy me!" said the actress.
"I do like to have more of the "heathy" choices, and not so much of the "empty" calories. I'll have a little of the potatoes and a lot of the salsa. Plus, half a slice of French toast is plenty! I don't have to deprive myself of tasty things when I can enjoy a smaller portion. I find this attitude to be a healthy one I can live with," she added.