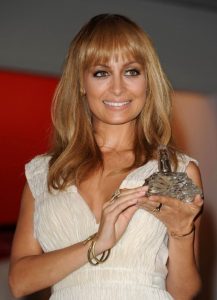 Nicole Richie has been in the public eye being singer Lionel Richie's adopted daughter. She became further known in the 2000s when she and long-time friend Paris Hilton starred in The Simple Life. The reality series aired from 2003 to 2007, running for five seasons. At the same time, she also ventured into acting in movies. She made her film debut in 2005's Kids in America. She also guest-starred in various television shows, such as Eve, Six Feet Under and American Dreams. She then had a recurring role as Heather Chandler in Chuck. She also released the novel The Truth About Diamonds. In the 2010s, she appeared on the TV show Fashion Star as a mentor. She went on to appear in her own reality series Candidly Nicole. This year, she plays the role of Portia Scott-Griffith, one of the main characters, in the sitcom Great News.
The celebrity now eats well and works out on a regular basis to stay in shape. It wasn't like this before though. During her younger years, she faced controversies with regards her body. In 2006, observers noticed how she was notably thinner compared to her body when she was in The Simple Life. Because of this, it was rumored that she had an eating disorder. She said in an interview: "I know I'm too thin right now, so I wouldn't want any young girl looking at me and saying, 'That's what I want to look like'. I started seeing a nutritionist and a doctor. I was scared that it could be something more serious."
It was also reported that she started working with a physical trainer. She also clarified that she doesn't have an eating disorder. More recently, the reality star reveals she keeps her fitness in check by going to Tracy Anderson. She said: "I go to Tracy Anderson. I've been working with her for three years now. She's wonderful. She's small like me and she knows my body type and is very on point with the whole world. She also attends a dance class four times a week.