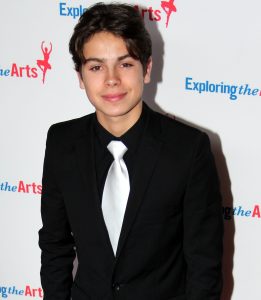 Hollywood actor Jake T. Austin debuted in an episode of Late Show with David Letterman back in 2003. He then got the voice role of Diego in Dora the Explorer and Go, Diego, Go! In 2006, he made his film debut as the voice of Nicky in the animated film The Ant Bully. He also had a voice role in the movie Everyone's Hero. Afterward, he had a role in the made-for-television film Johnny Kapahala: Back on Board.
Austin then became widely known for starring as Max Russo in the Disney series Wizards of Waverly Place, which he starred in from 2007 to 2012. He reprised his role in the TV film Wizards of Waverly Place: The Movie. He also appeared as Max in an episode of The Suite Life on Deck. He simultaneously had performances in the films Hotel for Dogs, The Perfect Game, Rio, and New Year's Eve. After Wizards of Waverly Place, Austin had guest roles in Drop Dead Diva and Law & Order: Special Victims Unit.
He next had voice roles in Khumba and Rio 2. In 2014, he portrayed Huckleberry Finn in the film Tom Sawyer & Huckleberry Finn, as well as co-starred as Grantham Portnoy in the movie Grantham & Rose. Also, he reprised his role as Max Russo in the TV special The Wizards Return: Alex vs. Alex.
From 2013 to 2015, he became further known for starring as Jesus Foster in The Fosters. He later appeared in Dancing with the Stars as a contestant on Season 23. He recently had roles in the films The Emoji Movie and The Valley.
The 25-year-old actor stays in good shape by living an active lifestyle. He works out during his free time, combining cardio and a bit of strength training as part of the Jake T. Austin workout routine. He also engages in several outdoor activities. "I love hiking and being surrounded by nature. I think this really elevates your consciousness," said the actor.