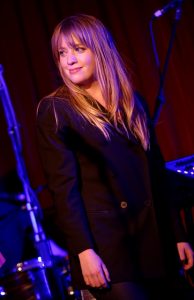 Canadian star Alexz Johnson had her career beginnings in the early 2000s with the TV series So Weird. She next guest-starred on the TV shows The Chris Isaak Show and The Collector. Her major break was as Jude Harrison in the popular show Instant Star. While working on the show, she simultaneously starred as Erin Ulmer in the movie Final Destination 3. She also starred in the TV movies Reefer Madness, Selling Innocence, and Devil's Diary. She later portrayed Imra Ardeen / Saturn Girl in the American series Smallville. In the 2010s, she had a recurring role on the TV series Blue. She also starred in the movies House of Bodies and The Wasting. As a recording artist, she released her debut album Voodoo in 2010. Her second album Let 'Em Eat Cake was released in 2014. This year, she released her third album A Stranger Time.
The 31-year-old actress maintains her healthy body by striving to stick to a proper diet. She doesn't follow any fad diets or anything that'll require her to be strict with her food intake. She just does the basic, which is trying her best to eat nutritious foods as much as possible, which means she's focused on having lean proteins, healthy fats, complex carbs, and fruits and veggies for their antioxidants.
In an interview, she shared how she loves Japanese and Greek foods. She said: "I love Japanese food and I love Greek food, those are my two favorites. I love making Greek salad, Greek food is just like the Mediterranean diet to me, it's just really delicious. Like Olive oil and olives and feta cheese and fish, it's all really good to me." She also makes sure that she doesn't overeat. She knows that even healthy foods become unhealthy when you have too much of them, so everything she eats is in moderation.