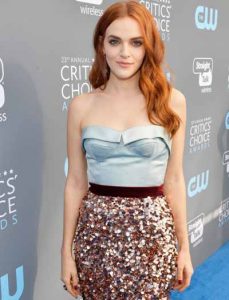 Hollywood star Madeline Brewer had her career beginnings in the 2010s. She debuted back in 2013 with her recurring role as Tricia Miller on the Netflix series Orange Is the New Black. After her stint on the show had ended, she landed the role of Miranda Cates on Hemlock Grove. She appeared on the show from 2014-2015. At the same time, she had a one-time role on Stalker. Afterward, she played Billie Trump in two episodes of Grimm.
In 2016, she guest-starred in an episode of Black Mirror, as well as starred as Agatha on The Deleted. In 2017, she made her cinematic debut in the film Flesh and Blood. That same year, she also appeared in the movie Hedgehog. 2017 was also the year that gave her further success on television. This was after securing a starring role on the Hulu series The Handmaid's Tale. With the show's critical success, Brewer became more popular. This year, she played the lead in the movie CAM. She will star in the upcoming feature film Captive State to be released in 2019.
The 26-year-old actress stays in shape by following a vegan diet. By being vegan, she automatically follows a plant-based diet. In an interview with The New Potato, she talked about how her eating lifestyle is making her feel great from the inside out. "I'm vegan so my insides are smiling constantly," said the actress.
As for her ideal food day? She revealed: "I'd start with an Americano with cinnamon and homemade french toast with bread from Lodge Bread. Then I'd have a banana and some peanut butter for a snack. Lunch would be a "chicken cheesesteak" from Govindas in Philly. Snack number two (because I'm a hobbit and eat constantly) would be some sweet potato fries and for dinner, it would have to be heaps of pasta made by me for my family around a tiny table in a beach house at the Jersey Shore."