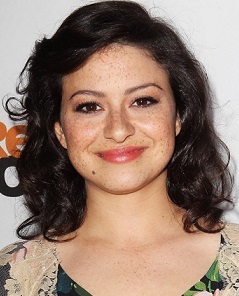 Hollywood star Alia Shawkat first appeared in the 1999 film Three Kings. On television, her first role was in an episode of JAG. Her first starring role was as Young Hannah Rayburn in the TV series State of Grace, which she starred in 2002. The actress' breakthrough role was as Mae "Maeby" Fünke in the sitcom Arrested Development. While on the show, she had performances in the films Rebound, Queen of Cactus Cove, and Deck the Halls.
She also starred in the made-for-television movie Not Like Everyone Else. She later appeared in 3 episodes of The Starter Wife. At the same time, Shawkat had notable roles in the films Bart Got a Room, Prom Wars, Amreeka, and Whip It. In the 2010s, she continued her acting career with prolific roles both on film and television.
On the big screen, she starred in the movies The Runaways, The Lie, Cedar Rapids, The Oranges, Damsels in Distress, That's What She Said, Ruby Sparks, The Brass Teapot, May in the Summer, The To Do List, and Night Moves. In 2016, she began starring as Dory Sief in the dark comedy series Search Party. She next played the role of Lila in the Amazon series Transparent. Back in the movies, her latest film performances include in Izzy Gets the F*ck Across Town, Blaze, Duck Butter, and Animals.
The 30-year-old actress makes conscious efforts to live a healthy life. While she doesn't follow any strict diets that'd require her to deprive herself of most food, she keeps it simple by choosing nutrition over convenience. Being an actress with an on-the-go lifestyle, keeping it healthy with her meals sometimes pose a challenge. However busy she gets, she tries to avoid fast food and processed meals as well. Her diet plan would typically consist of fish, chicken, fruits, and veggies. Her snacks would be fresh juices, smoothies, yogurt, fruits, and almonds instead of junk food. Because of her disciplined attitude when it comes to eating, the actress is able to maintain a healthy body.