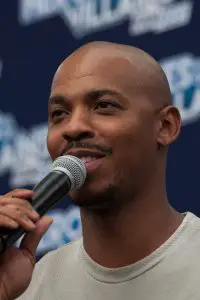 Hollywood star Mehcad Brooks had his career beginnings in 2002, debuting in the film Radimi: Who Stole the Dream. That same year, he made his television debut in an episode of Do Over. Later in 2004, he played recurring character Russell Clark in Boston Public, after which he guest-starred in One on One and Cold Case. Brooks also starred in the television film Tiger Cruise. In 2006, he portrayed basketball player Harry Flournoy in the sports drama film Glory Road.
He next starred in the film In the Valley of Elah, released the following year. Between 2005 and 2006, Brooks also became known for his role as Matthew Applewhite in ABC's Desperate Housewives. He went on to star as Jerome "Jerry" Wright in The CW's The Game. He then played the role of Eggs, a recurring character, from 2008 to 2010. Shortly after, Brooks had notable roles in the television shows The Deep End and My Generation.
Around the same time, the actor had performances in the films Just Wright, Creature, About Last Night, and Adulterers. Continuing his busy career on the small screen, he starred as Terrence King in USA Network's Necessary Roughness. More recently, he became widely known for starring as James Olsen / Guardian in CBS' Supergirl. He starred on the show from 2015 to 2019. He's also acted in the films Nobody's Fool and A Fall from Grace. He'll play the role of Jax in the 2021 movie Mortal Kombat.
Mehcad Brooks keeps in top shape by staying true to his workout routine. He makes great efforts to be consistent about his fitness regimen. Of course, proper nutrition is just as important, maybe even more. For this reason, he has since cut back on carbs and sugar. Anything processed for him is a no-no. It is reported that the actor's diet consists of fish and poultry for its lean meat and salads for its fiber and other nutrients.