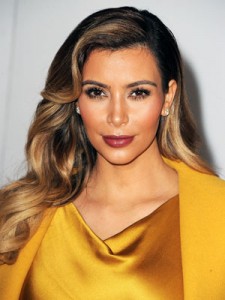 Kim Kardashian is an American television personality that first became recognized as one of Paris Hilton's friends. Just like Paris, she gained wider recognition by appearing on reality television in the 2000s. Keeping Up with the Kardashians, a show that chronicles her and her family's lives became hugely popular among viewers. A couple of spin-offs have since been made, starring her and her sisters in Kourtney and Kim Take New York and Kourtney and Kim Take Miami. By 2008, she ventured into acting as she made her movie debut in the spoof film Disaster Movie. It was followed by Deep in the Valley in 2009. Her most recent work on the big screen was Temptation: Confessions of a Marriage Counselor released in 2013. In addition to this, she has also acted on television, most notable in Drop Dead Diva where she appeared in four episodes.
The reality royalty has always received much attention from the media and the public. Partly because she's wealthy and highly attractive. Ever since, she has been known for her curvaceous figure, something she flaunts and showcases by wearing sexy and body-hugging outfits most of the time. After giving birth to her second child with husband Kanye West in 2015, her fans wondered how the celebrity managed to stay in shape and return to her original body figure. According to reports, Kim uses the Atkins 40 Diet to shed some pounds she gained while pregnant.
The reality star herself announced on Twitter that she's going to practice the said diet plan because it totally works for her. The Atkins 40 Plan is actually doable as you can still enjoy food because there's a variety of options from every food group. The body needs carbs, proteins, and fats, so it's essential that Kim eats healthy foods while observing moderation. The diet plan gives this option. Kim can still have all these nutrients while losing weight. Mostly, she eats veggies, pasta, and even potatoes.