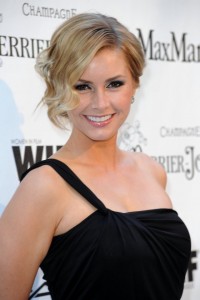 American actress Brianna Brown is now a familiar face among television viewers courtesy of her ferocious role in Devious Maids. Initially, she started acting in 1999 when she was already in her 20s. In the beginning of the 2000s, she was mostly playing one-episode roles in various TV shows and landing minor roles in movies. In 2005 and 2006, she played supporting roles in National Lampoon's Adam and Eve and Night of the Living Dead 3D, although these were low-budget features, which didn't really get notice from mainstream audiences. It took her more years to play a notable role, in 2010, when she starred as Lisa Niles in the medical soap General Hospital. She was further exposed after playing a recurring role in the acclaimed show Homeland in 2011. From there, her career took off and she finally landed another starring role in the aforementioned series Devious Maids. It is unclear whether she will return as a main role for the show's Season 4.
The 36-year-old actress is not your ordinary girl-next-door kind. She may have the pretty looks and the sizzling body, but Brianna is more than a performer. She is devoted to her craft and has persisted on doing her best in the acting world until she finally was noticed and was given more notable characters on television. Now that she has a larger following of fans, her beauty becomes more noticed, and because she's nearing her 40s, fans can't help but wonder how she maintains her youthful glow and slender figure.
For one, she's really health conscious. She tries to work out everyday and believes in the importance of a nutritious and a balanced diet. She eats clean and healthy by making sure she knows what she's eating. This means she always want to find out the ingredients of her food. If she doesn't know what's in her food, she wouldn't eat it. It also helps that she likes to cook because she can choose her own ingredients. Lemon zest is one ingredient that she mostly incorporates into her meals. Typically, she brings her own food wherever she goes. She also loves to make her own healthy shakes with nuts and chia seeds because it makes her feel more energetic.