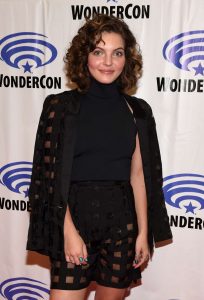 Hollywood star Camren Bicondova got her career beginnings when she debuted in an episode of the TV series Shake It Up in 2011. Subsequently, she made her big screen debut, playing the role of Prissy in the feature film Battlefield America. During this time, she appeared on the dance competition show America's Best Dance Crew as a contestant as part of the all-female dance crew 8 Flavahz.
She also appeared on the music video of Ciara's song "Got Me Good" as a backup dancer. She next had a minor appearance in the 2013 film Girl House. She made her acting breakthrough in 2014 after landing the role of Selina Kyle / Catwoman on the Fox series Gotham. She still stars on the series up to present, gaining her mainstream prominence. For her work here, she was nominated for a Best Performance by a Younger Actor in a Television Series at the 41st Saturn Awards.
The 19-year-old celebrity keeps herself fit and healthy by staying active. Being a professional dancer, that helps her a lot. But aside from dancing, the actress also follows a regular workout routine to help her not only maintain a healthy weight but also to keep herself strong and energized. Her regular exercise habits are how she keeps herself beautiful from the inside out, apart from eating clean.
In an interview, she said: "If I don't work out, my mind becomes scattered. If I don't eat clean foods, I get tired easily. I have really weird skin, so if I don't work out and eat poorly, I break out. Beauty definitely starts from the inside, so if you feel good, you will look good." She also revealed that she gets into her character on Gotham by exercising. "If the scene requires a lot of energy and fast pace, I'll do ten burpees before each take. If the scene just requires a lot of energy and attention (which pretty much every scene of Selina's does), then I'll do twenty pushups before each take," she revealed.