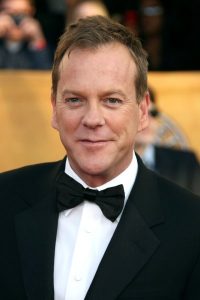 Hollywood actor Kiefer Sutherland started his acting career in the 1980s with roles mostly in films. He was first noticed for his role in the Canadian film The Bay Boy. His role in the film Stand by Me gained him further attention. He has since starred in a couple of well-known films, including The Lost Boys and Young Guns. In the '90s, he rose to fame for his starring performances in the movies Flatliners, Twin Peaks: Fire Walk with Me, A Few Good Men, The Three Musketeers, A Time to Kill and Dark City.
In the 2000s, he became an international figure for his role as Jack Bauer in 24, which won him many awards, including Primetime Emmy awards. He has since reprised his role in 24: Redemption and 24: Live Another Day. He also starred in the short-lived series Touch. As of 2016, he stars as President Thomas Kirkman in the ABC series Designated Survivor. He has also had roles in the films Melancholia, The Reluctant Fundamentalist, and Flatliners.
The 51-year-old actor mostly stars in action-packed shows, like his long-running stint in 24, and this naturally helps him get fit and maintain his shape and overall health. According to him, though he doesn't work out much when he has some free time, his roles on the screen are enough to help him stay fit. "I don't think about how I look, but the work helps a lot, just staying really active. Then, with regards to just kind of working out, I like to run," he said.
For one, Kiefer does all his stunts, including his intense scenes in 24 and its subsequent sequels. Nonetheless, the actor admits that he needs to be strong and healthy to pull off the stunts in the first place. "But you can't fake the physical side of it. If you're hanging underneath a garbage truck going 45 miles an hour, you're not going to be faking your fear. You jump off the side of a building, you're going to react the way you should," he was noted saying.