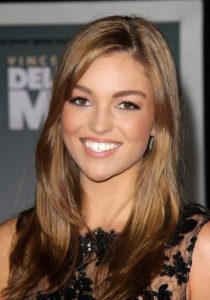 Hollywood star Lili Simmons had her career beginnings in the 2010s. During her career start, she appeared in the shows Zeke and Luther and Mr. Sunshine. She next appeared in the made-for-television movie Geek Charming. In 2012, she made her big-screen debut in the movie Fat Kid Rules the World. She later became known for her role as Rebecca Bowman in the television series Banshee.
She played the said character from 2013 to 2016. Simultaneously, she starred in the movie Bone Tomahawk. In 2014, she started playing the recurring role of Amber Vitale in the show Hawaii Five-0. She also appeared as Beth in two episodes of True Detective's first season. She went on to appear in an episode of Westworld. Her latest role was as Natalie James in the show Ray Donovan.
The 24-year-old actress stays in shape by sticking to a healthy diet plan. She may be young but she's starting to become conscious of her body and her overall health. She makes sure that the food she consumes is something that's nutritious for her body. She also listens to what her body tells her. She explained:
"I used to drink coffee, which I still do once in a while, but it started making me feel a little shaky. I now like drinking green tea. A lot of the time, I like to do egg whites with spinach for breakfast—it's an easy go-to. When I'm in a hurry, I love going to Earth Bar and grabbing a smoothie." Speaking of smoothies, she also makes sure they're healthy. "I always try to get some detoxes or green anything, not just sugar," she said.
Overall, wellness for her is finding a balance between eating healthy, exercising and a happy mind. She said: "Wellness to me is, of course, working out and eating healthy, but also being healthy in the mind and being loving."