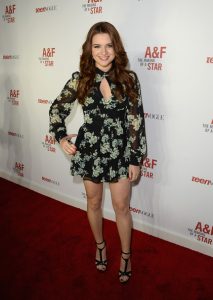 Katie Stevens made her television debut as a contestant in American Idol Season 9. She finished in eighth place. A couple of years later, she pursued a career in acting. Her first role was in the 2014 movie Friends and Romans. That same year, she also starred as Karma Ashcroft in the MTV series Faking It. It aired on television for three seasons until 2016, enough to garner her mainstream recognition. While on the show, she also appeared in the short film Jimmy.
She went on to guest star in such TV shows as I'll Bring the Awkward and CSI: Crime Scene Investigation. In 2017, she began playing the lead role of Jane Sloan in the comedy-drama series The Bold Type. The show airs on Freeform and is currently on its third season. This year, she played the role of Avery in the supernatural horror film Polaroid. In addition to her film and TV roles, she's also appeared in the music video of Dan + Shay's single "How Not To".
Not only does she work out, the singer-actress also eats well to maintain a healthy figure. Her diet plan mainly consists of nutritious foods. These include lean meat, whole grains, salads, and fruits. Eating healthily doesn't come as a challenge for her because she feels the difference it makes in her body. She finds herself more productive and confident when she has high energy levels and is strong from the inside out.
Besides, she doesn't necessarily deprive herself of food. She still eats whatever she wants, only in moderation. She still has cravings and indulgences that she allows herself to have every now and then. "However, if I work a full day and get out early, occasionally I'll sit on my couch and treat myself to a glass of rosé and chocolate chip cookie coconut ice cream," said the actress.