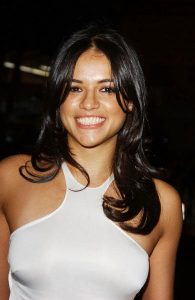 Michelle Rodriguez is an American celebrity. She's mostly known for her work on film and television. She started her career in the 2000s. Her debut was in the independent film Girlfight. She went on to have notable roles in mainstream films. These are in Resident Evil, Blue Crush, S.W.A.T., and Battle in Seattle. She's also best known for playing Letty Ortiz in The Fast and the Furious films. She also played a supporting role in Avatar. She continued her prolific career in the 2010s. During this period, she starred in Machete, Resident Evil: Retribution, and Machete Kills.
The 38-year-old actress has always been known for her portrayal of tough and feisty women on the big screen. This is because she definitely looks like one with her remarkable beauty and lean build. It is also notable how Michelle has managed to stay slender and fit all these years. She's now two years shy of 40 and she still can kick some ass – at least in the movies. This is because the Hollywood star invests her time and energy to make sure she maintains her fitness. Not only does she eat right, she also works out to strengthen her body and mind.
Interestingly, she prefers being active rather than sticking to routines in fitness centers. She takes advantage of her where she is and uses that to have fun and exercise at the same time. Michelle is more fond of outdoor activities and adventures rather than sticking to some routines. For instance, when she was in Spain she didn't miss the chance to hopped on a paddleboard for a fun and active ocean ride. She also loves walking and running. She is not the kind of person that has a sedentary lifestyle because she likes to keep moving. Additionally, she does cardio and resistance training.