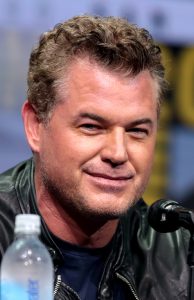 Hollywood actor Eric Dane had his career beginnings in 1991, debuting in an episode of Saved by the Bell. He continued making one-time roles on television during this period, as well as appearing in some TV movies. Later in 1999, he had his first movie role in The Basket. In the 2000s, he played recurring role Dr. Wyatt Cooper in Gideon's Crossing.
He later became known for playing Jason Dean in Charmed. In 2004, he portrayed Charles "Tex" Watson in the TV film Helter Skelter. His breakthrough role on television was as Dr. Mark Sloan in Grey's Anatomy, which he played between 2006 and 2012. During this period, he also played Jamie Madrox / Multiple Man in X-Men: The Last Stand.
He also had notable roles in the films Open Water 2: Adrift and Marley & Me. In 2010, he starred in the films Valentine's Day and Burlesque. After Grey's Anatomy, he became known for starring as Capt. Tom Chandler in The Last Ship, which he played from 2014 to 2018. At the same time, he starred in the 2017 movie Grey Lady. Dane continued his work on television, landing the role of Cal Jacobs in the HBO series Euphoria.
For his lead role in the TNT series The Last Ship, Eric Dane upped his workout routine to efficiently play his character. "Now its a utilitarian thing rather than an aesthetic thing. I do a lot more cardio, but still no treadmills—you never get anywhere on treadmills," said the actor. "I like lifting weights. And there is a cardio element to lifting if you're doing it the way I do it. If I can get to the gym 3-4 days a week, and spend 50 minutes to an hour and a half, irrespective of whether I lift something or not, I'm getting in shape."