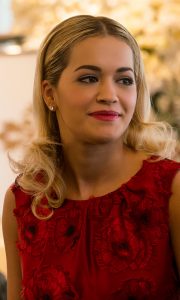 British singer and actress Rita Ora got her start in the show business in the mid-2000s. She made her acting debut in the British movie Spivs. At the same time, made her first TV appearance in The Brief. In 2007, she pursued singing, first appearing in Craig David's song "Awkward". She next became a backing vocalist for James Morrison. She entered the competition Eurovision: Your Country Needs You on BBC One but she later withdrew.
After releasing covers on YouTube, she got the notice she has long been waiting for. She was then featured in DJ Fresh's single "Hot Right Now", gaining her recognition. In 2012, she released her debut album Ora. It reached atop the charts in the UK. It also spawned the singles "R.I.P." and "How We Do (Party)". Last year, she released the songs "Your Song" and "Anywhere" for her upcoming second album.
The 27-year-old actress stays in shape by sticking to a clean diet plan. Being a performer, it is crucial for her to have enough energy and she gets this from eating right. In an interview with Shape, she got candid about her healthy habits, which include her diet regimen. She said:
"With the plan I'm on, you can eat quite a bit as long as you exercise. In the morning, I have two boiled eggs, asparagus, and half a cup of muesli with almond milk. For lunch, I have chicken or fish with vegetables, and for dinner, I have six to eight ounces of fish with vegetables and half a potato. Plus snacks. I don't eat bread or sugar. But I'm not starving myself. I used to be like, 'I'm not eating!' Eating isn't the problem, though. It's about what your body needs and everyone's body is different."
Of course, she indulges her cravings as well. "I'm such a sucker for cheese and wine. I was just shooting a movie in Italy, and the pastas, the cheeses, the wine—ooh! Obviously, I had to have all that good stuff. Now I indulge once a week. But I don't go crazy," she said.