Early Career and Success on the Big Screen
Emmanuelle Grey "Emmy" Rossum was born on September 12, 1986 in New York City, New York. She is the only child of single mother Cheryl Rossum. Her parents separated when her mother was pregnant; and as of 2007, she said she had met her father twice. At age seven, she joined the Metropolitan Opera Children's Chorus.
During the next five years, she sang onstage with the chorus and had the opportunity to perform with other noted opera singers such as Plácido Domingo and Luciano Pavarotti. By the time she was 12, she diverged her interest into acting, taking classes at The New Actors Workshop in New York City with Flo Salant Greenberg.
Around this time, she also hired an agent and auditioned for several acting roles. She then studied at the Spence School in Manhattan for years, though she eventually dropped out to pursue a career in acting. She completed high school at age 15 through online extension courses offered by Stanford University's Education Program for Gifted Youth. She subsequently enrolled at Columbia University.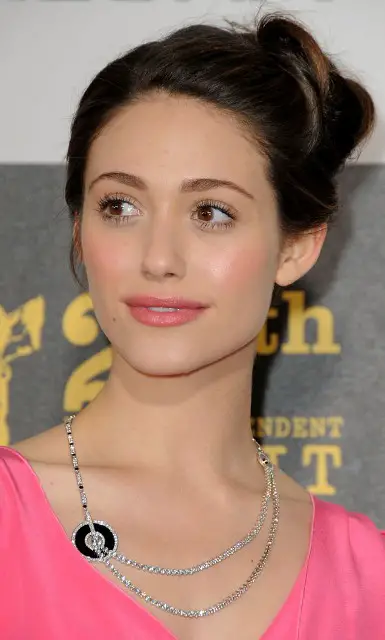 Her acting career initially began in 1996, after making her screen debut with the television film Grace & Glorie. She later appeared in an episode of Law & Order and starred in another television movie called Only Love. In 1999, she was nominated for the Young Artist Award for Best Performance in a Television film or Pilot – Supporting Young Actress for her performance in the television movie Genius.
Also in 1999, she landed the role of Abigail Williams in the soap opera As the World Turns. The following year, she portrayed the young Audrey Hepburn in the made-for-television film The Audrey Hepburn Story. She later starred as Deladis Slocumb in the film Songcatcher, for which she was nominated for Independent Spirit Award for Best Debut Performance.
In 2003, she was cast as Katie Markum, the daughter of Sean Penn's character in Clint Eastwood's Mystic River. The film marked Rossum's first major studio feature. Following Mystic River, she landed her career break as Laura Chapman in Roland Emmerich eco-disaster film The Day After Tomorrow, co-starring Dennis Quaid and Jake Gyllenhaal. For her role, she was nominated for the MTV Movie Award for Best Breakthrough Performance.
Her career continued to flourish after securing the coveted role of Christine Daaé in the film adaptation of Andrew Lloyd Webber's The Phantom of the Opera. Her performance as the young opera singer who becomes the object of the Phantom's obsessive love garnered her critical acclaim, receiving a Golden Globe Award nomination for Best Actress – Motion Picture Musical or Comedy.
She next appeared in Wolfgang Petersen's 2006 film Poseidon, the high-budget remake of the 1972 film of the same name. The movie received mixed to negative reviews and was a commercial failure, barely returning its $160 million budget. She then took a break from film for three years and made her comeback with the 2009 live-action film Dragonball Evolution. The film also received negative reviews and was a moderate box office success.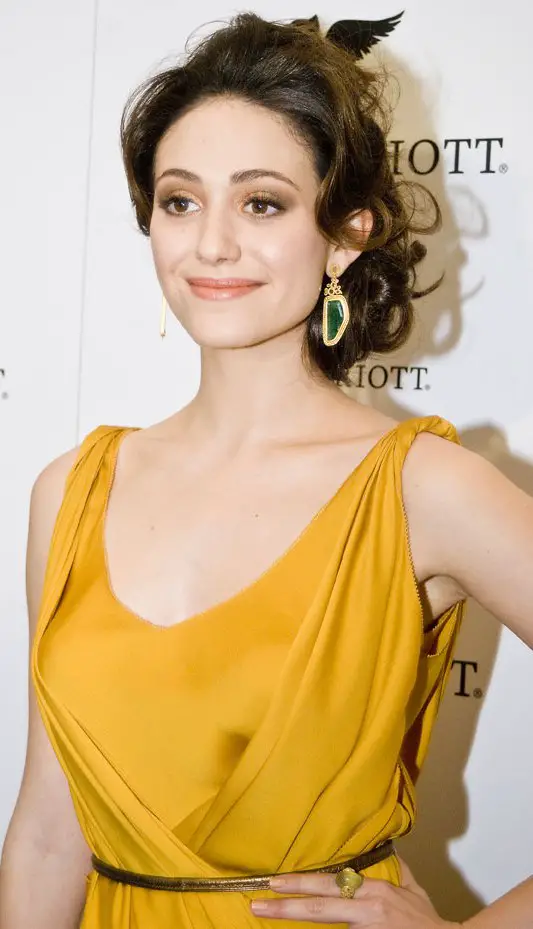 Recent Films, TV Show and Thoughts on Plastic Surgery
Also in 2009, she starred as Alexa Walker in Dare. It served as an official selection at the 2009 Sundance Film Festival and received positive reviews from critics. Rossum also gained special commendation for her performance, receiving the Young Hollywood Award at the Savannah Film Festival.
In 2011, she played the role of Christina Perasso in the social film Inside. That same year, she joined the cast of the television series Shameless. In the show, she plays Fiona Gallagher, the eldest daughter of Francis "Frank" Gallagher played by William H. Macy. The series generally garnered positive reviews and has been recently renewed for a fifth season.
She then returned to the big screen with the 2013 film Beautiful Creatures, alongside Jeremy Irons and Emma Thompson. It received mixed to positive reviews but was a box office failure.
In 2010, Rossum attracted media attention after expressing her concerns on the matters of plastic surgery. The actress couldn't hide her frustrations after reality star Heidi Montag's ten cosmetic procedures in one day were featured in People magazine with Montag on the cover. According to The Phantom of the Opera actress, the magazine is sending the wrong idea to the general public about plastic surgery.
She tweeted: "It upsets me to see young women in the spotlight advocating plastic surgery. ANY surgery is extremely dangerous & should not be taken lightly, much less, used as a tool to increase notoriety or popularity." She then added: "More importantly, running such stories takes the focus off other, truly important matters and that's what should trouble us the most."
She argued that by putting something like extreme plastic surgery on a widely-circulated magazine, not only does it make the idea of cosmetic procedures acceptable but it also becomes something that people aspire to as well. With the intensity of her opinions against the glamorization of plastic surgery in Hollywood, it seems like Rossum won't be in any plastic surgeons office any time soon, or maybe not at all.