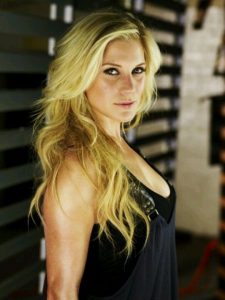 It was in 1998 that actress Katee Sackhoff started her professional acting career. Her debut was in the TV movie Fifteen and Pregnant. In the 2000s, she initially played Annie in Undressed and starred in the short-lived series The Fearing Mind. She later played Nell Bickford in The Education of Max Bickford. Meanwhile, in 2001, she had her first movie role in My First Mister. She next starred as Jennifer "Jen" Danzig in the horror film Halloween: Resurrection.
Sackhoff became further known on television for starring as Kara "Starbuck" Thrace in Battlestar Galactica, which she starred in from 2004 to 2009. Simultaneously, she played Sarah Corvus in 5 episodes of Bionic Woman. She also played Dr. Theodora "Teddy" Rowe in Nip/Tuck. During this period, she starred in the feature film White Noise: The Light. In the 2010s, she portrayed Dana Walsh in the Fox series 24.
This was followed by a three-episode role as Det. Frankie Reed in CSI: Crime Scene Investigation. She continued her prolific career on TV, starring as Victoria "Vic" Moretti in the A&E series Longmire. As of 2017, she plays Amunet Black / Blacksmith in The Flash. Back in the movies, she's also had performances in The Haunting in Connecticut 2: Ghosts of Georgia, Sexy Evil Genius, Riddick, Oculus, Tell, and Don't Knock Twice. Last year, she starred in the movie 2036 Origin Unknown.
In an interview, the actress said that she maintains her fitness by being naturally active and regularly hitting the gym. "I grew up athletic and it's who I'll always be," Sackhoff said. For her role in Battlestar Galactica, the actress upped her workout routine because she needed to bulk up.
"I used to [lift heavy weights] 'cause I needed the bulk and I needed to look like I could beat up a guy," she shared. Since then, she's simplified her fitness regimen. "I don't need that anymore. I've leaned out and I can be more delicate than I could before. It's afforded me less time at the gym, it's just more cardio now," she explained.