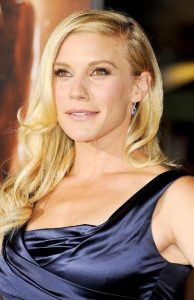 Hollywood actress Katee Sackhoff started her Hollywood career in the late '90s. During her early years, she made guest appearances on the small screen. In the 2000s, she had notable roles on the TV shows The Fearing Mind and The Education of Max Bickford. At the same time, she starred as Jennifer "Jen" Danzig in the film Halloween: Resurrection. Afterwards, she became known for her role as Kara "Starbuck" Thrace on the TV series Battlestar Galactica. In 2010, she played the role of Dana Walsh on 24. As of 2012, she stars as Victoria "Vic" Moretti on Longmire. She also became known for her roles in the movies The Haunting in Connecticut 2: Ghosts of Georgia, Riddick, Oculus, and more recently, Don't Knock Twice.
The 37-year-old actress maintains her toned figure by living a healthy lifestyle. In her previous roles, however, she shared how she needed to consume more calories because she was required to bulk up for her roles. One example was for her role in the movie Riddick, where she needed to gain muscle mass. She shared how she ended up "eating everything I could and lifting as heavy as possible to pack on a lot of muscle." Her objective during this time was to "to look the same, but add two sizes.
She revealed it has a challenge, but she had help – Peanut butter fudge from Whole Foods. Moreover, the actress became candid of how she needed to consume more calories in order to achieve the physique she needed to be in. She said: "I had to consume like 5,000 calories a day. I had my manager ship fudge to Montreal and just ate it nonstop." For her role in Longmire, she keeps her fans entertained by sharing posts of her healthy snacking. In a post, she shared how she enjoys munching on a protein bar from Quest Nutrition in order to fit in her character's tight jeans on Longmire.