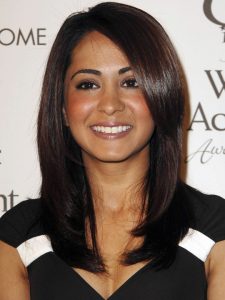 British actress Parminder Nagra had her career beginnings in the 1990s. Her first television appearance was in 2 episodes of Casualty. Her subsequent roles were in TV movies and one-time roles in TV shows. She had her breakthrough in the early 2000s after starring as Jesminder "Jess" Bhamra in the movie Bend It Like Beckham. Afterward, she landed the role of Dr. Neela Rasgotra in the American series ER, which she starred in from 2003-2009. This gained her further mainstream recognition.
Simultaneously, she played Areida in the film Ella Enchanted and starred in the made-for-television film Compulsion. In the 2010s, she starred as Dr. Lucille "Lucy" Banerjee in the short-lived series Alcatraz. This was followed by her role as Rachael in Psych and Meera Malik in The Blacklist. From 2016-2017, she played Ellen Nadeer in Agents of S.H.I.E.L.D. More recently, she joined the main cast of the show Fortitude as Dr. Surinder Khatri. She has also recently been cast as Special Agent Mallik in Elementary. Also in the 2010s, she had roles in the films Horrid Henry: The Movie, Twenty8k, and Bird Box. She will star in the upcoming drama film Five Feet Apart.
The 43-year-old actress stays in shape by following a healthy diet plan. Though she does not adhere to any means of strict dieting, she makes sure what she eats every day are healthy, whole foods. Sticking to a nutritious diet plan isn't something that the actress finds challenging. For starters, it helps her stay active with lots of energy — something she obviously needs as a performer. She also tries her best to not skip any meals, no matter how busy she gets. In case of being loaded with work, she has healthy snacks with her. Best on-the-go snacks are nuts and fruits and they totally help her satiate her hunger. Her meals mostly include lean proteins, whole grains, and fiber-rich foods such as vegetables, lots of them, and fruits.