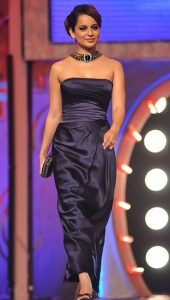 Bollywood star Kangana Ranaut has established herself as a well-known actress in India. Her career in the entertainment industry started as a model. She eventually became an actress as she made her debut in 2006. Her first film was Gangster, which got her significant notice. For her role in Gangster, she won the Filmfare Award for Best Female Debut. After dramatic roles in Woh Lamhe and Life in a… Metro, she was acclaimed for her role in Fashion. For Fashion, she won the National Film Award for Best Supporting Actress. She further gained success for starring parts in Tanu Weds Manu and Queen. She recently starred in Tanu Weds Manu Returns.
Standing at 5'8, the 29-year-old actress has a modelesque body, which is only fitting because she worked as a model before. Now the actress has since maintained her slender figure. Thanks to her fast metabolism, the actress does not put on weight so easily. This is also because the actress practices healthy eating habits. She does not allow herself to consume too much processed foods. She also does not believe in any fad diets and starvation for losing weight. Proper nutrition is the key for her.
For breakfast, she starts her day with cereals or porridge with egg white omelet in breakfast. For lunch, she has homemade cooked dal, veggies, 2 chapattis and rice. She sometimes has grilled chicken. For dinner, she mostly has soup, boiled vegetables with grilled or baked chicken. She also has healthy snacks. During the day, she has a fruit plate followed and protein shake for snacks. At night she has egg white sandwich made of brown bread. She has cravings that she sometimes indulges herself in and that's pizza. Additionally, the actress keeps herself hydrated by drinking lots of water. She also avoids eating oily or fried foods.