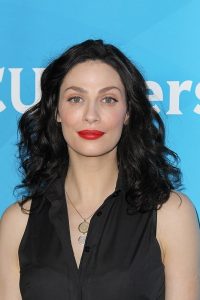 Actress Joanne Kelly is from Canada. She debuted in the 2002 film The Bay of Love and Sorrows. That same year, she made one-time appearances in the TV shows Mentors Largo Winch, Tracker, and Mutant X. The following year, she had a role in the movie Crime Spree. She then had her first notable role on television — as Liberty 'Libby' Kaufman in the TV series Jeremiah. Afterward, she appeared in the movie Going the Distance as Sasha. Her next roles were in the TV films Whiskey Echo and Selling Innocence.
She also played the recurring role of Sarah in Slings and Arrows. She starred in a couple of TV films again, including Playing House, Heyday!, and Solar Attack. In 2006, she starred as Sara Collins in the short-lived series Vanished. Continuing her prolific career on TV, she appeared in the miniseries The Dresden Files and Jack Hunter and the Lost Treasure of Ugarit. She then made notable guest appearances in Supernatural and Castle.
It was, however, her role as Myka Bering in the Syfy series Warehouse 13 that gained her prominence. She simultaneously played Vanessa Moore in the CBS series Hostages. Afterward, she played Allison Shaw in the short-lived CBS show Zoo. Her latest film role was in 2017's The Disappearance. On TV, she recently guest-starred in The Resident and starred in the TV movie Prescription for Danger.
To stay in shape and generally healthy, the actress has cut down on processed foods, especially ones high in sugar. Doing so and, of course, focusing on healthy meals has made amazing changes in her body. Basically, her diet plan consists of lean meat like fish and chicken and high-fiber foods like veggies and fruits. That's why she keeps her meals balanced and simple with rice or quinoa with fish or chicken and some salad on the side.