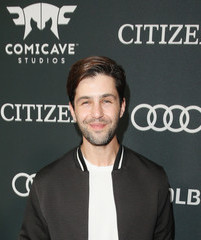 Hollywood actor Josh Peck had his career beginnings as a child actor in the late 1990s. He continued acting during his teens in the early 2000s. He first became known as a main cast member of the sketch comedy show The Amanda Show. During this period, he also landed roles on the big screen, starting with Snow Day,Max Keeble's Big Move, Spun, Mean Creek, and Havoc. In 2006, he voiced Eddie in Ice Age: The Meltdown.
From 2004 to 2007, Josh Peck became known for starring as Josh Nichols in the Nickelodeon show Drake & Josh. He reprised his role in the films Drake & Josh Go Hollywood and Merry Christmas, Drake & Josh. Other movie credits in the late 2000s include The Wackness and Drillbit Taylor. In the 2010s, his voice acting career flourished when he got the role of Casey Jones in Teenage Mutant Ninja Turtles.
Then after a recurring role in The Mindy Project, he starred in the short-lived sitcom Grandfathered. At the same time, the actor has had performances in several movies, such as ATM, Battle of the Year, The Wedding Ringer, Danny Collins, The Timber and Take the 10. Recently, it's been announced that he'll play Charles Bukowski in the upcoming biographical feature titled Bukowski. On television, he starred as Scott Turner in Disney's reboot of Turner & Hooch. He currently stars as Drew in the new sitcom How I Met Your Father.
What is Josh Peck's Workout Routine?
Josh Peck has had quite the transformation from when he was a teenager to being a grown man in his 30s. In the sitcom Drake & Josh, aside from his hilarious performance, people also remembered the actor for his chubby appearance. Peck also said that he weighed over 300 pounds when he was 18 and because of his asthma, it was not easy for him to exercise and lose the weight. But with hard work, determination and discipline, he finally did!
Wondering how Josh Peck lost all the extra weight? According to the actor, he had to completely change his lifestyle. For him, that meant going to the gym regularly and sticking to a clean diet. "I made a conscious effort to lose weight because I knew I could be happier, as well as healthier," he said back in 2006.
Hiring a physical trainer to help him exercise efficiently, he integrated simple activities like walking and running on a daily basis into his lifestyle, as well as performing cardio workouts. Several years later and the actor still maintains a toned physique by consistently hitting the gym and choosing healthy foods over junk meals.
Nonetheless, he's confessed that talking about his weight loss has been getting tiresome. "People have been so obsessed with my weight loss and it's like 12 years later -I'm like 'Man, had I gone through my awkward teenage years alone and not on television, this would just be a small footnote in my life," said Peck in an interview. The actor also doesn't find the continued use of memes from when he was overweight funny or amusing, telling people to 'move on' already.