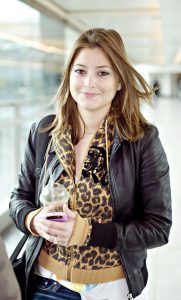 Australian singer and actress Holly Valance first became known for her role as Felicity Scully in the Australian series Neighbours. After her stint on the show ended in 2002, she released her debut album Footprints. It spawned the song "Kiss Kiss". Afterward, she pursued a career in the United States, first making one-episode roles in such shows as CSI: Miami, Entourage, and CSI: NY. She then played recurring character Nika Volek in the Fox series Prison Break.
In 2006, she made her cinematic debut as Christie Allen in the Hollywood film DOA: Dead or Alive. She next had roles in the films Pledge This!, Taken, and Kambakkht Ishq. In the 2010s, she worked in the UK television, appearing in the show Agatha Christie's Marple. She went on to appear as a contestant in the reality competition Strictly Come Dancing. From 2013 to 2014, she served as judge and mentor in the show Shopaholic Showdown. Her most recent movie was in 2015's Red Herring.
The Australian beauty has been criticized for her weight gain at the beginning of the 2010s, but that's all changed now. Ever since that, the singer-actress has been careful with her eating habits. According to reports, Holly was able to slim down just in time for her wedding in 2012 by following the Clean & Lean diet. As the name implies, it means focusing on clean and whole foods, nothing processed or made of artificial ingredients.
This diet also intends to introduce a total lifestyle change, not other fad diets that only offer short-lived weight loss solutions. It was said that for months, Holly only ate lamb cutlets, quinoa, grilled figs with avocado or courgette and chicken skewers. But this diet is also flexible and not hard to follow. It even allows dieters to have a cheat meal per week, allowing you to indulge.