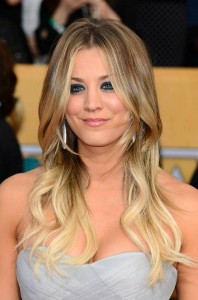 Comedic actress Kaley Cuoco, best known for her role as Penny in The Big Bang Theory. The show's worldwide prominence has then cemented her fame as an actress. Initially, her acting career began in the early 1990s when she was around seven. She mostly got recognition from roles on television, first getting notice for her role in 8 Simple Rules, but not as big as the attention she's receiving in the present, courtesy of her work in The Big Bang Theory. The sitcom has been airing since 2007 and is currently on its ninth season.
Prior to becoming an actress, Kaley was first a tennis player where she competed regionally. Her venture into acting proved to be a successful one, even though her big break in Hollywood took some time. Aside from her work on the small screen, she also worked on films since 1992. Her most memorable appearances were in Killer Movie, The Penthouse, and Hop. Recent films are Authors Anonymous and The Wedding Ringer.
Being a household name, Kaley has thousands of fans all over the globe. Somehow the actress serves as an inspiration to other women. Her wit, confidence, and beauty are some of her features that make her charm contagious. Of course, Kaley follows certain workout routine and diet plans to maintain her good figure and her fitness as well. The 30-year-old star is also noted for her love of diet cola, which is also her favorite drink. Though she knows that having too much isn't good so she limits herself to only having four cans a day. Instead of eating dessert, she drinks diet cola.
As for her taste in food, she's a fan of home-cooked meals as she's more likely to make sure the ingredients are within her preferences. Every breakfast, she usually has granola, skimmed milk, and fruits for a balanced diet. Since she's also known to be a fan of spinning as one of her workout, she has made it a habit to have a sandwich from Subway after spinning. Since she likes it spicy, she adds some onions and jalapenos in it.