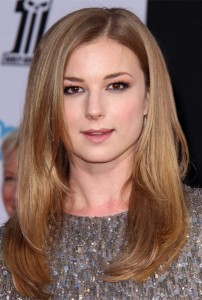 Canadian actress Emily VanCamp is at the peak of her career. Starting her career on Canadian television, she eventually got her break on American television with Everwood. Afterwards, she starred in Brothers & Sisters, earning her further prominence. Though it was her lead role in Revenge as Emily Thorne/Amanda Clarke that brought her her greatest success so far. The show ran for four seasons. Her amazing performance on the show led her to be cast as Agent 13 in Captain America: The Winter Soldier (2014), a role she will reprise in the upcoming movie Captain America: Civil War (2016). She recently starred in the movie The Girl in the Book (2015).
It didn't take much time for the Canadian beauty to achieve recognition on television. With her remarkable face and her incredible knack for acting, mainstream success should be expected. Now that she's part of the Captain America films, she's even set for a more promising turn in Hollywood. Standing at 5'8, Emily's figure is also noticeable. Her fans also saw a new Emily with her role in Revenge where she played a bad ass vindictive beauty. With this, she had some great action-packed scenes, which showcased her being fit and agility at the same time.
As expected, the actress has a very tight schedule, and when the time comes that she feels she's running out of energy, she turns to pressed juices to keep her refreshed. She said that when she craves for something sweet, she opts for juices instead of a doughnut. She's mostly fond of apple-lemon-ginger blend and one with kale, cucumber, celery, spinach, pear, cilantro, mint, and lime. When asked about practicing strict diets, Emily said: "They can make you crave the things that are bad for you even more." To satisfy her love of food while still eating healthy, she eats quinoa instead of white rice and sweet potatoes instead of white. Once in a while, she also digs in to her guilty pleasures – cheese pizza and french fries with gravy and cheddar cheese curds!