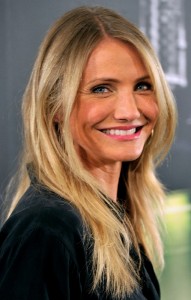 43-year-old Cameron Diaz began her career as a model and instantly became famous as an actress in her first movie, The Mask (1994). After some more roles in indie movies afterwards, she returned to mainstream cinema with the romantic comedy My Best Friend's Wedding (1997). She has since starred in a lot of well-known films. In the 2000s, she made memorable performances in Charlie's Angels, Vanilla Sky, and Gangs of New York.
She has also proven her talent in acting, being nominated for several awards such as a Golden Globe and a BAFTA for her performance in Being John Malkovich in the Supporting Actress category and another Golden Globe for her performance in There's Something About Mary in the Lead Actress category. She's also been noticed for her supporting roles in Vanilla Sky and Gangs of New York. Cameron's recent movies are The Other Woman, Sex Tape, and Annie.
Cameron looks great even in her 40s. This is because together with exercising, the actress is cautious when it comes to the food she eats. The Golden-Globe nominated star admitted that she loved eating fried foods when she was in her 20s, but she revealed how she needed to make some changes to guarantee her health and fitness. She said: "I used to eat fried food from morning to night when I was in my 20s. But I have really had to make some changes. I love fried chicken and french fries. I can't do that anymore."
Fitness and nutrition expert Teddy Bass is helping Cameron manage her health through the food she eats. Her diet plan consists of having six, light meals a day. She also follows the "no white" diet plan, which means she must avoid any food containing white sugar, white rice, white flour, potatoes, and others made from white flour like bread, cakes, pasta, and noodles. Cameron usually has raw almonds, protein shake, plain yogurt, and low fat milk for breakfast. This is followed by a snack consisting of fruits, a few almonds, and cappuccino. She then eats grilled chicken and green salad for lunch with 2 prunes, 1 peach and low fat yogurt as her second snack. For dinner, Cameron only munches some dark chocolate.