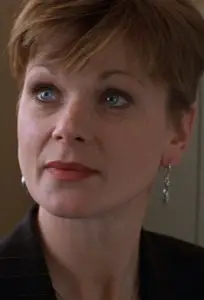 English actress Samantha Bond had her career beginnings in the 1980s. She debuted in the BBC series Mansfield Park where she starred as Maria Bertram. After her work here ended, she auditioned and got the part of Julia Simmons in Agatha Christie's Miss Marple. She next played recurring character Elizabeth "Miz Liz" Probert in Rumpole of the Bailey, as well as starred in the miniseries The Ginger Tree.
Bond also pursued a film career during this period where she had her first role in 1989's Erik the Viking. Bond gained mainstream recognition after securing the part of Miss Moneypenny in the James Bond film Tomorrow Never Dies. She got to reprise the said character in the sequels The World Is Not Enough in 1999 and Die Another Day in 2002. The rest of the 2000s saw her perform in the feature films Blinded, Yes, Strings, and A Bunch of Amateurs.
On television, she became known for her roles as Auntie Angela in the British sitcom Outnumbered. She also portrayed Queen Elizabeth II in the documentary The Queen. Between 2010 and 2015, she starred as Lady Rosamund Painswick in Downton Abbey. She next joined the main cast of the British series Home Fires as Frances Barden. This year, she guest-starred in 2 episodes of Silent Witness.
Samantha Bond follows a clean diet plan to maintain her health. She usually starts her day with a mug of tea, though she doesn't eat breakfast until around 10am. "Make a pot of low-caffeine coffee to drink all morning. Then have a bowl of Crunchy Nut cornflakes, which keeps me going until the afternoon. I'm not a great nibbler," shared Bond about her preferred breakfast. She's also more cautious of what she eats during stage performances. "Have something light, a cheese and ham sandwich with salad. I have to be careful what I eat before going onstage, to avoid an upset stomach," she said.