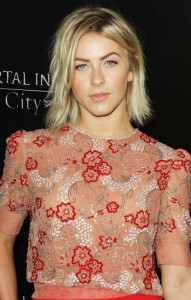 27-dancer/actress/singer Julianne Hough is an amazing artist but her break on television came only in 2007 when she started appearing as a professional dancer on the reality show Dancing with the Stars. Prior to that, she first appeared on the game show Show Me the Money, also as a dancer. Since then, Julianne has appeared as a dancer and trainer on Dancing with the Stars. She later became a choreographer and is now one of the judges.
She has won two times on Dancing with the Stars, the first one was with partner Olympic gold medal-winning speed skater Apolo Ohno during Season 4. She won again in 2007 with partner Indianapolis 500 champion Hélio Castroneves during the show's Season 5. Recognized for her work on the show, she received a Primetime Emmy nomination for Outstanding Choreography. With her newfound fame, Julianne found herself on the big screen with her debut in Burlesque (2010). She soon landed her first lead role in the 2011 remake of Footloose. She continued her cinematic career with a starring role in Rock of Ages (2012), followed by the 2013 Nicholas Sparks movie adaptation Safe Haven.
Apparently, the actress has a great figure, primarily because she's a professional dancer and started training when she was little. That alone is a substantial work-out. Of course, the multi-talented celebrity wants to make sure that aside from looking great, she also feels fit and healthy by keeping her diet plan nutritious. It was, however, reported that Julianne gained much weight in 2013 as a result of her eating junk foods and drinking red wine while still dating American Idol host Ryan Seacrest.
She quickly changed her ways after getting unpleasant comments about her weight. She decided to remove sugar from her diet, as well as food containing gluten. She also switched to meals with low carbs as long as they're rich in proteins and contain healthy fats. In addition, she practices moderation on her eating and mostly relies on green smoothies, spinach smoothie, almonds, hummus, and iced herbal tea as her snacks. She also avoids using condiments to improve the taste of her food. She sprays her foods with lemon juice, spoonful of vinegar, and bunch of herbal spices over veggies instead.