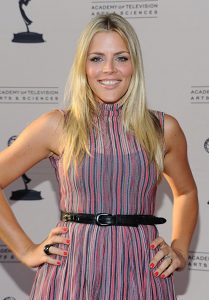 It was in 1999 that Busy Philipps' professional career in the entertainment world started. She made her debut in the TV series Saving Graces. At the same time, she played Kim Kelly in Freaks and Geeks. In 2000, she made her cinematic debut in The Smokers. Afterward, she gained recognition for her role as Audrey Liddell in Dawson's Creek. She later became known for playing Karen Googlestein in the movie White Chicks.
Subsequently, she played Denise Johnson in Love, Inc. and Dr. Hope Bobeck in ER. She went on to appear as Kacy Corbin in five episodes of Terminator: The Sarah Connor Chronicles. In the late 2000s, she had supporting roles in the films Made of Honor and He's Just Not That Into You. From 2009 to 2015, she starred as Laurie Keller in the series Cougar Town. While on the show, she performed in the movies I Don't Know How She Does It, Made in Cleveland, and The Gift. Her latest work on television is as Gale Liptrapp in the comedy series Vice Principals.
When it comes to staying fit and healthy, the Hollywood actress relies on proper nutrition to help her stay in shape and stay healthy. She tries her best to follow a clean diet plan, which consists of whole, nutritious foods. As much as possible she avoids processed food items. In an interview, Busy shared her daily eating habits. She said that she starts her day with "Bulletproof coffee".
For lunch, she said: "I pick up a salad from Kreation for lunch and typically eat between 1 and 2 p.m. I like the Cobb salad or the salmon wrapped in collard green leaves." She added: "After lunch, I have one more coffee: I like iced coffee from Starbucks with a splash of nonfat milk in it." Even her snacks consist of healthy foods, saying: "If I snack, it's generally hummus on Rice-Thins or Nut-Thins crackers and some guacamole." For dinner, she loves making "ground turkey with marinara sauce" for her family.