Theatre Career and Breakthrough in Hollywood
Rosamund Mary Elizabeth Pike was born on January 27, 1979 in Hammersmith, London, England. She is the only child of opera singers Caroline and Julian Pike. She is conversant in French and German as a result of traveling across Europe with her parents doing their performing careers.
She won a scholarship to Badminton School in Bristol and was spotted by an agent while performing as Juliet in a production of Romeo and Juliet at the National Youth Theatre. She also secured a place to read English Literature at Wadham College, Oxford from which she graduated.
During college, she took a year off to pursue an acting career, performing in multiple stage productions including David Hare's Skylight, Arthur Miller's All My Sons, and several plays by William Shakespeare. She also made appearances on television with such shows as A Rather English Marriage, Wives and Daughters and Love in a Cold Climate.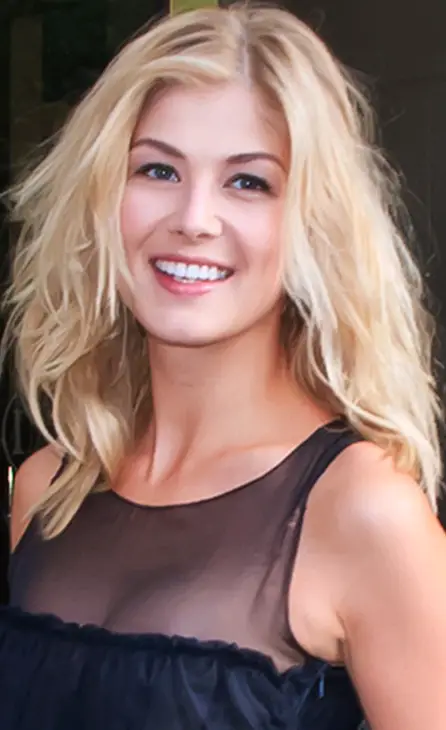 She then made a notable appearance playing the role of Sarah Beaumont in a episode of the television series Foyle's War. Shortly after graduating, she almost considered working at Waterstone's bookshop due to lack of acting opportunities but in a twist of fate, was offered a role as Bond girl Miranda Frost in 2002's Die Another Day.
She gained substantial attention for her performance in the James Bond movie, receiving the Empire Award for Best Newcomer. She was also nominated for the Saturn Award – Cinescape Genre Face of the Future Award – Female and MTV Movie Award for Best Trans-Atlantic Performance.
In 2004, she played Elizabeth Malet in The Libertine opposite Johnny Depp, for which she won the Best Supporting Actress award at the British Independent Film Awards. That same year, she starred in the film Promised Land. 2005 saw her play the role of Jane Bennet, the elder sister of Keira Knightley's character in Pride and Prejudice. Her performance in this film earned her a British Supporting Actress of the Year nomination from the London Film Critics Circle Awards.
She next starred as scientist Samantha Grimm in Doom, as well as appeared in the movie Fugitive Pieces, based on Anne Michaels's novel of the same name. In 2007, she gained further substantial notice for her portrayal of Nikki Gardner in Fracture, opposite Ryan Gosling and Anthony Hopkins.
During the next few years, she starred in such feature films as An Education, Surrogates, Burning Palms, Barney's Version and Made in Dagenham. She also lent her voice in the British satirical movie Jackboots on Whitehall. In 2011, she appeared in the short film titled The Organ Grinder's Monkey and starred as Kate Sumner in the action comedy film Johnny English Reborn, which became a box-office success.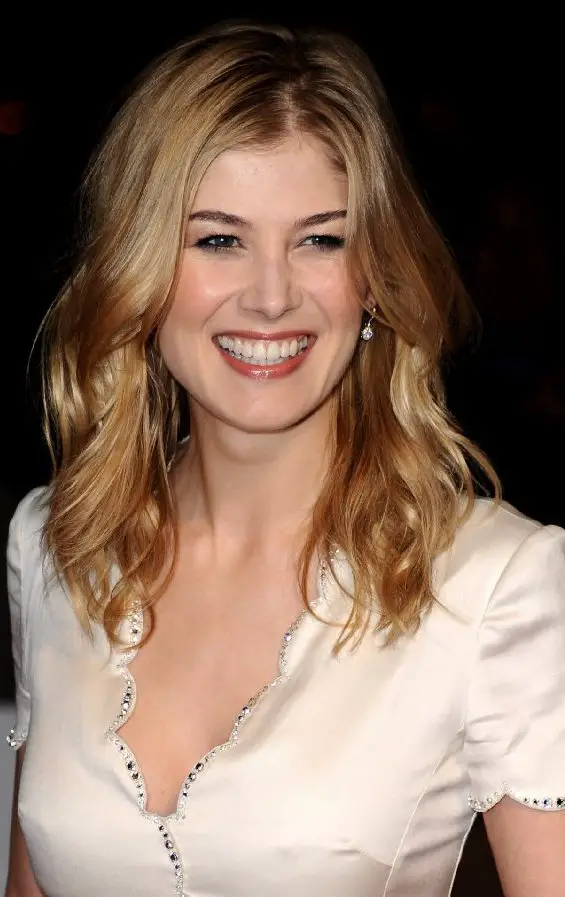 Recent Films and Plastic Surgery
In 2012, she replaced Alexa Davalos in playing the role of Queen Andromeda in Wrath of the Titans. She had to drop out of consideration for a role in the forthcoming Superman film in order for her to commit to Wrath of the Titans. Although the movie received negative reviews, it became a box office hit, grossing over $300 million. The critics also described her performance as one of the film's highlights.
Later in 2012, she starred opposite Tom Cruise in Jack Reacher based on the novel, One Shot, by Lee Child. The film was well received by critics and grossed over $213 million worldwide. She stars in the upcoming mystery-thriller film Gone Girl directed by David Fincher, based on Gillian Flynn's novel of the same name.
The 35-year-old actress, with her soaring Hollywood career, also faced plastic surgery rumors. The most prominent one was the nose job allegations. When Pike was asked if she really had some work done on her nose, her response was vehement, saying: "For a start I wouldn't have the money to afford a nose job. I think I've been quite lucky with my nose."
Probably people wouldn't really buy the fact that she can't afford a nose job. But maybe what she meant by this is that plastic surgery is way beyond her financial indulgence. Just maybe. Who knows? The actress also expressed that even Botox is not something that she will try, despite her being in her late 30s.
She explained: "No way. Not even Botox. You look at someone like Judi Dench and you just think she's the most beautiful woman. Because if you're a beautiful person then somehow all the lines fall into the right place."