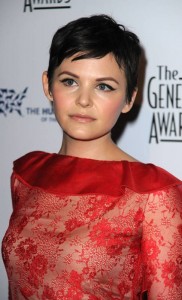 37-year-old Ginnifer Goodwin is both a well-known movie and television star, though she first became known on the small screen for her role as Diane Snyder in Ed in the early 2000s. She also had a memorable cinematic debut in Mona Lisa Smile (2003) as Connie Baker. Subsequently, she had roles in the romantic comedy Win a Date with Tad Hamilton! and the biographical drama film Walk the Line where she played Johnny Cash's first wife Vivian Liberto.
Her major breakthrough came on television after landing the part of Margene Heffman in the HBO series Big Love, which she played from 2006 to 2011, cementing her fame as a television actress. After the show ended, she followed it with another starring role in Once Upon a Time, where she plays Mary Margaret Blanchard / Snow White. She plays the said roles up to present. Simultaneously, she appeared as a voice actress in the animated web series Electric City and portrayed Jacqueline Kennedy in the television movie Killing Kennedy. Apart from her work on the big screen, she became known among moviegoers for her role as Gigi in the romantic comedy film He's Just Not That Into You.
Giinifer is very cautious when it comes to making sure her body gets the nutrients it needs. Interestingly, she practiced vegan diet before, but had to change her ways after suffering health issues she chose not to reveal. Because of these health problems, she had no choice but to bring back animal products back into her diet. The actress is also noted for using Weight Watchers to keep her cravings in check. Despite not having any dramatic weight problem, Ginnifer uses such products and services to make sure nothing's wrong with her eating habits. Also, she's not a fan of junk foods as her snack. Instead, she relishes on oatmeal, one teaspoon of peanut butter, and small amount of jelly.