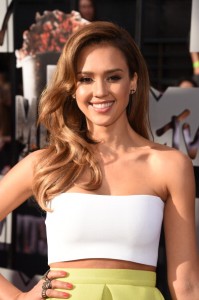 American actress and model Jessica Alba is remarkable for her baby-face beauty and rocking figure, accompanied by her knack for acting, which she first famously displayed as the lead star on the television series Dark Angel in the early 2000s. Despite its popularity, it was short-lived but it gave Jessica the attention she needed in order to start a successful movie career. Prior to this, she was already acting on both the big screen and television as she was entering her teens. Subsequently, she starred in Honey released in 2003, followed by Sin City and Fantastic Four a few years after. Other notable roles in the 2000s are Into the Blue, Fantastic Four sequel Rise of the Silver Surfer, Good Luck Chuck, and The Eye. She continued her film career in the next decade with performances in Valentine's Day, Machete, Spy Kids 4: All the Time in the World, and Sin City: A Dame to Kill For. With her films, it can be noted that she has collaborated with director Robert Rodriguez a bunch of times.
34-year-old former Dark Angel actress may already be in her 30s, but it doesn't seem that she's really aged, at least significantly. She was only 19 when she rose to fame for starring in the aforementioned TV series, but her beauty and even her slender figure hasn't changed a bit. In fact, she looks better. It probably has something to do with her married life and being a mother to two kids. Speaking of her motherhood, Jessica is also notable for gaining back her original body after having her kids.
Standing at 5'6 ½, part of the actress' charm is her sexy figure. Thus, she really takes good care of herself to not only look fabulous but also maintain good health. In an interview, Jessica shared some of her eating habits. According to the celebrity, she wasn't really into breakfasts before, only having coffee and banana in the morning. But now that she's a mom, she wants to observer a more healthy diet plan. With this, the actress said she's fond of making shake which has vegan protein powder, matcha green tea powder, banana, coconut water, and ice after eating a light breakfast. This helps her feel full until lunch. She also revealed that though she eats healthy, she can never do a no-carb diet, mainly because she loves popcorn, which she eats almost every day to help her concentrate.