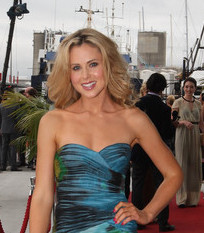 Anna Hutchison started her career in 2002, debuting as Delphi Greenlaw in the New Zealand series Shortland Street. After the series ended, she appeared in the Disney Channel Original Movie Wendy Wu: Homecoming Warrior. She next joined the main cast of the show Ride with the Devil. In 2008, she made her Hollywood debut, starring as Lily Chilman / Yellow Cheetah Ranger in Power Rangers Jungle Fury.
She later starred as Allison Dine in the Australian series Underbelly: A Tale of Two Cities. From 2009 to 2012, she also starred as Amy Smart in the New Zealand program Go Girls. She next starred as Emilia Fife in the Australian show Wild Boys. In 2012, Hutchison made her cinematic debut in the horror-comedy film The Cabin in the Woods. She gained wider recognition for her role as Laeta in the TV series Spartacus: War of the Damned.
At the same time, she played the recurring role of Sasha in the FX sitcom Anger Management. She also had performances in the films Blinder, Wrecker, and Sugar Mountain. Following this, she starred in the movies Vengeance: A Love Story, Encounter, and Robert the Bruce. She also starred in the television films Wrong Swipe and Cup of Love.
Anna Hutchison keeps her body in top shape by being active in her day-to-day. For starters, some of her roles on the screen have also required her to undergo physical training, such as with Spartacus. For her role as Laeta in the said series, the actress attended three weeks of boot camp training to prepare for her character and perform some stunts on her own.
"I had horse-riding lessons. It's been outrageous because you know when you're a kid and you go to horse-riding lessons after school – I was never one of those ones, but my friends were so it's felt like I got all that stuff that I semi missed out on as a little one," said the actress. Outside of filming, she also stays active by engaging in a lot of activities. For instance, she trained for a New York marathon although she had to drop after getting injured.