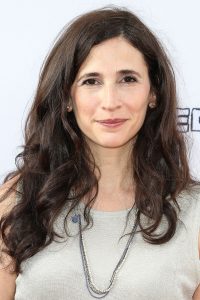 Hollywood star Michaela Watkins debuted in the 1998 independent film Inconceivable. Afterward, she landed several one-episode roles on such TV shows as Charmed, Miss Match, Without A Trace, Strong Medicine, and Grey's Anatomy, among others. After two unsold pilots, she got the break she's been waiting for when she earned a spot in the long-running sketch comedy show Saturday Night Live. However, her stint on the show was short-lived, only from 2008-2009. Afterward, she played recurring character Lucy in The New Adventures of Old Christine. In 2010, she made her film debut in the romantic comedy The Back-Up Plan.
She later became known for her notable performances on television, such as-as Janice Holm in HBO's Enlightened, Gina in New Girl, and Jackie Fisher in Trophy Wife. She next played Connie / Yetta in the comedy-drama series Transparent. During this period, she was also a prolific film actress. She had supporting roles in Wanderlust, Afternoon Delight, and They Came Together. In 2016, she played Ivana Trump in the parody film Donald Trump's The Art of the Deal: The Movie. Her recent films include Brigsby Bear, How to Be a Latin Lover, The House, Dude, and Ibiza. From 2015-2018, she also became widely known for her lead role as Valerie Meyers in the Hulu series Casual.
The actress is already in her late 40s so she's more health conscious than ever. She has since learned to change her eating habits so that her food choices are cleaner and healthier. She now avoids eating processed foods, at least not as often as before. For breakfast, she keeps it simple with an egg and a toast. For lunch and dinner, it's either fish or chicken with fruits and veggies on the side. As she's always on the go, she always brings some fruits like blueberries and nuts with her so she doesn't end up eating junk every time she gets hungry while on the road.